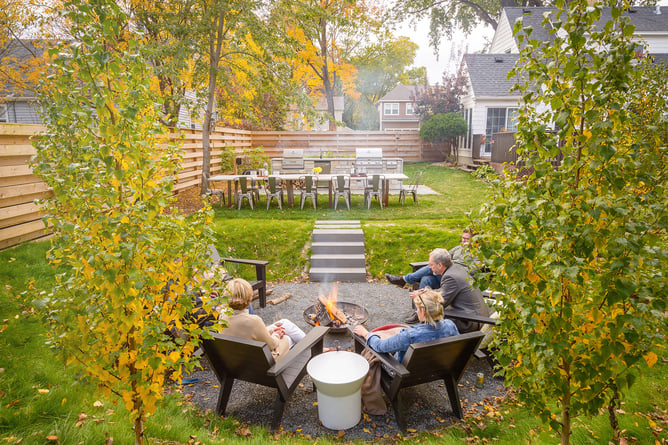 Outdoor living environments including outdoor kitchens, wood or gas outdoor grills and fire pits like these turn your backyard into an inviting entertaining oasis and will allow you to bring nature into your daily routines.
One of our favorite outdoor kitchen projects included this sunken living space which created an urban retreat that can be enjoyed daily. The owners wanted to fashion a space in their backyard that reminded them of their cabin in the North woods. The sunken fire pit conversation area is surrounded by a grove of birch trees that provides a private and intimate space. Hygge is abundant in this design for sure!
The owner loves to entertain and the Fire Magic grill island allows for both gas and wood fired cooking and includes an operational sink that the owner plumbed himself. This couple enjoy a fast paced work life during the work week and revel in this outdoor space on a daily basis. This space brings inspiration and renewal as only nature can do.
Fire can make a beautiful focal point for your landscape design. You can incorporate fire into your landscaping in a variety of ways. In this design, the owners created three zones for entertaining:The outdoor kitchen and dining area, the sunken fire pit and the sauna. Certainly beautiful to look at, this space invites you to use the space and enjoy it.
With an outdoor kitchen like this one, you are allowed to be surrounded by friends and family - not cooped up inside your home doing the cooking while everyone else is outside socializing. You can still be in the thick of things while you prepare food and drinks for your guests. These clients enjoyed a 16 person Easter celebration complete with bourbon glazed ham, in Minneapolis, in April, out in their own back yard.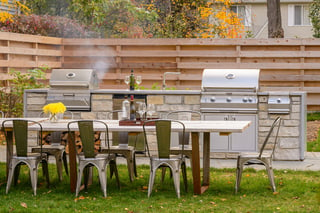 We can work directly with you or your landscape designer to install the gas fire pit or outdoor kitchen you have always wanted. A gas fire pit and an outdoor kitchen can be fully customized for your needs. You and your guests will enjoy the warmth and comfort that fire, food, family and nature provide.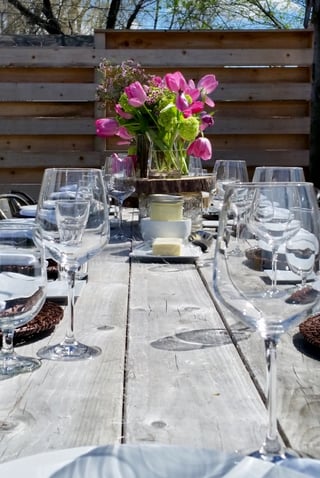 Are you interested in learning more about an outdoor kitchen or gas fire pit in Minneapolis? Call All Seasons Fireplace at 952-546-6162 or you can contact us to Schedule a Consultation.