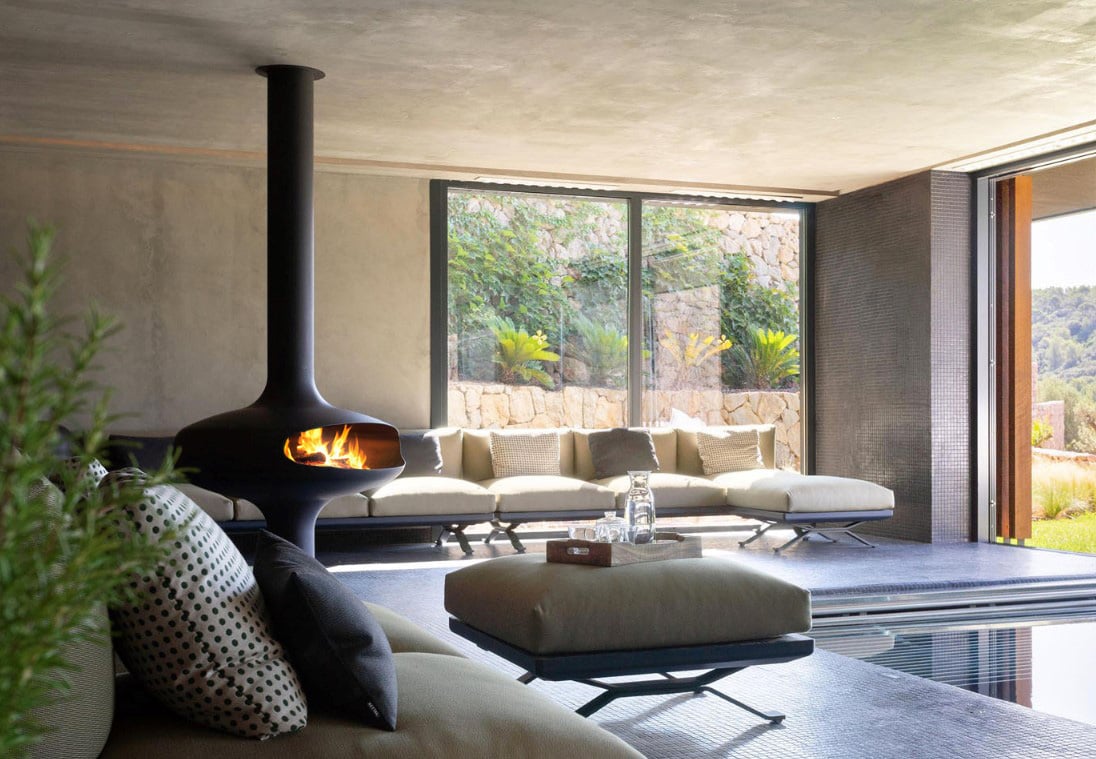 Suspended Outdoor Fireplaces
Our Focus fireplace is another unique product exclusive to the Twin Cities through All Seasons Fireplace. The Focus can be used outdoors in certain conditions. Follow this link for more information on the Focus.

The photo is an example of how you might include Focus in a covered patio space in your pool design. Imagine warming up after a morning swim in front of this beautiful fireplace. See all the outdoor suspended fireplaces from Focus here.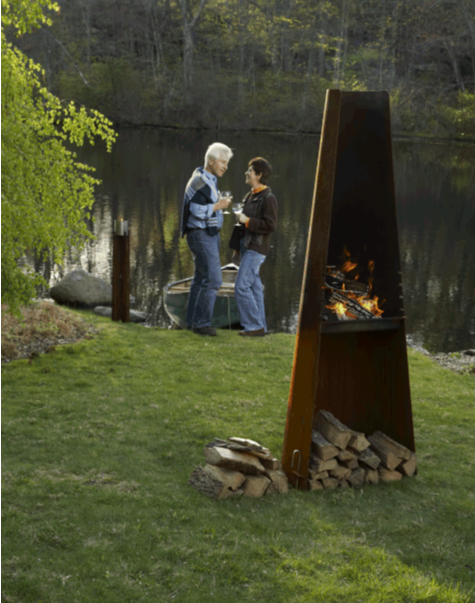 Wood Burning Free Standing Stoves
If you are looking for something for the cabin and if you enjoy the rich patina of Corten steel, may we suggest the Phoenix pictured here? The open vertical cylindrical design of the Phoenix makes it the perfect urban fire pit because it can be enjoyed in tight spaces without smoking out your neighbors next door.
Use the Phoenix as a grill or fireplace and when not in use, enjoy it as a beautiful sculptural element in your garden.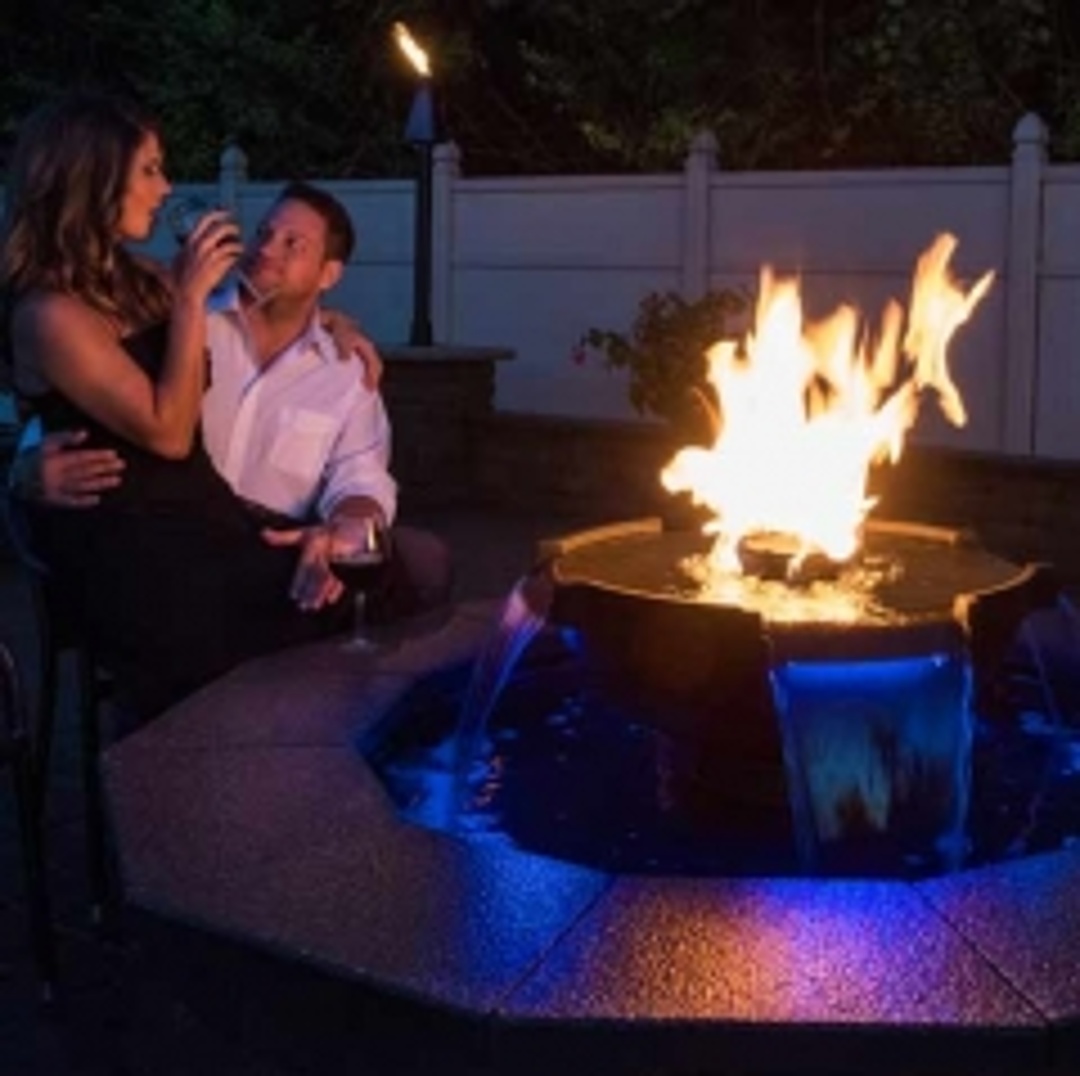 Outdoor Fire Pits
Who doesn't love the time spent around the fire pit roasting s'mores and enjoying the company of family? Look to HPC to supply reliable fire pits and fire features fueled by gas. New smartphone technology makes using these products easier than ever.
Contact the sales consultants at All Seasons Fireplace to learn about the different types of ignition systems and the benefits of each.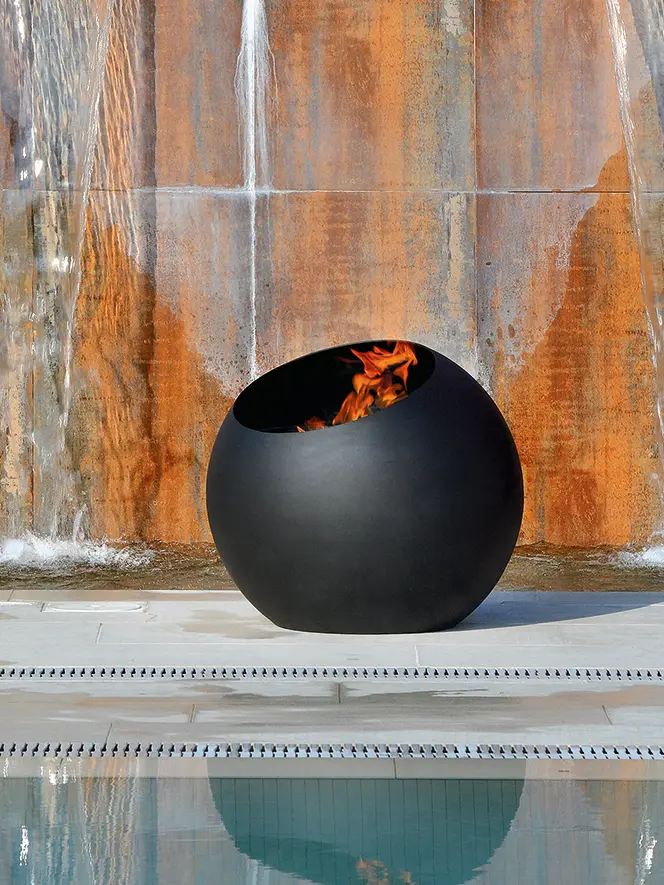 The Focus Bubble
The German Design Award-Winning Bubble 2022
This contemporary fire bowl was designed for Focus by Christophe Ploye. The Bubble Brazier is designed as a wood-burning outdoor fire to be installed in a garden or terrace, for the city or country, it is a compact and chic heat source.
27.5" in diameter
Equipped with two castors on the back-easily moved on level ground
Removable inner bowl for cleaning
Anticorrosion coating allows it to withstand the outdoor elements


The Hemi 26, 36 and 48
Refined sculptural presence
Available in three sizes to suit any space. Natural gas or Liquid propane provides 60,000,73,500 or 108,000 BTUs of heat.
26- 26" x 12" x 10"
36- 36" x 17" x 12"
48- 48" x 23" x 17"
Available in 12 colors of concrete
Accessories:
Metal Tabletop with Drinks Ring
Hardwood Tabletop
All-Weather Fabric Cover
Additional River Rock Firestones
Glass Wind Shield

Ignition Mechanism (NG/LP)
Manual lit
Manual w/Adjustable Flame + shut off device
Electronic w/ Adjustable Flame + safety shut off device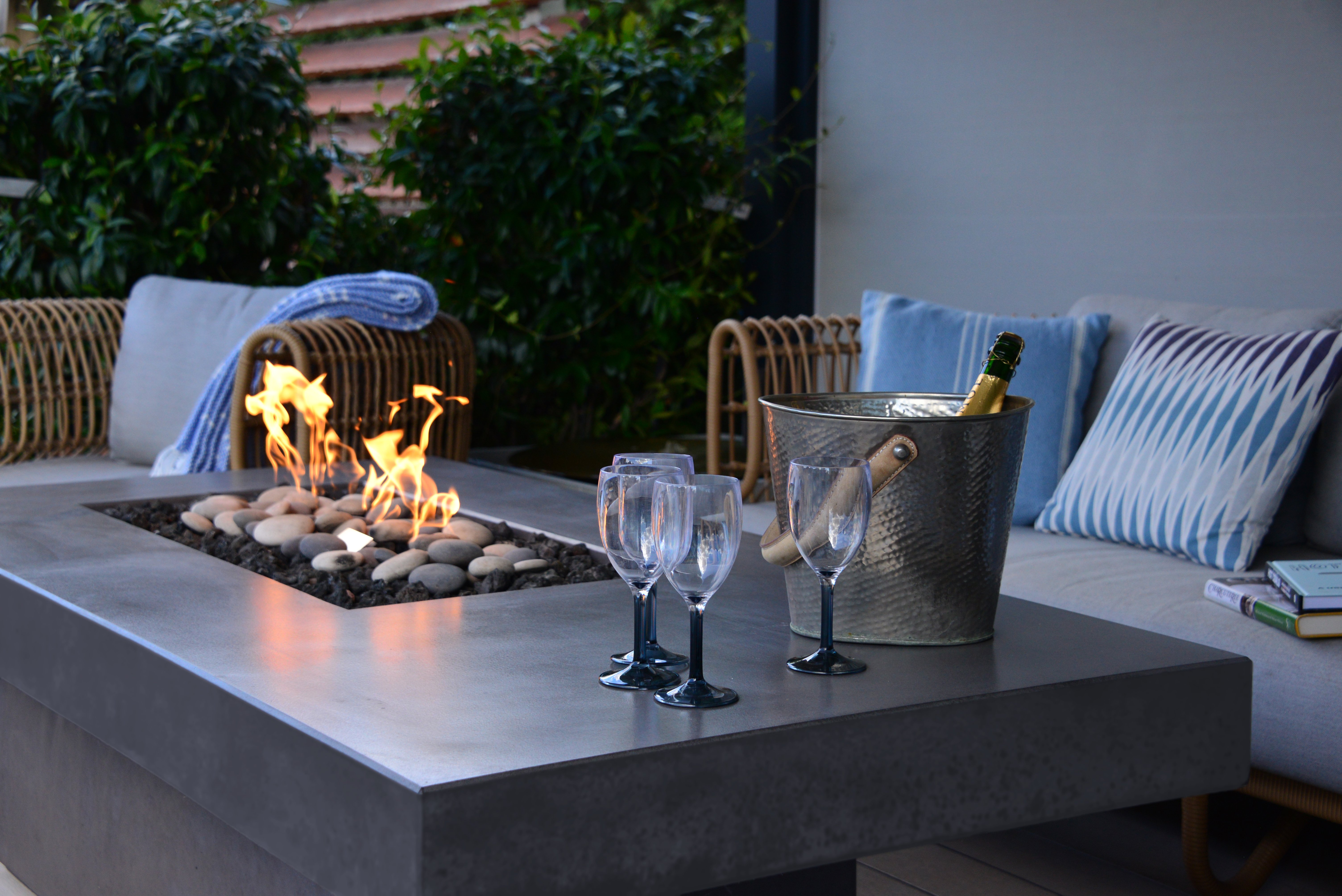 Tavolo
Big in size and huge in personality
This significant piece lends itself to form and function by providing a larger table area: Its rectangular shape and smooth polished surface extend proudly with an offset from the fire tray.
The table area surrounding the fire remains cool to the touch, making it the most interactive fire table option.
Size: 68" x 34" x 20"
Available in 12 colors
Accessories:
Additional River Rock Firestones
Glass Wind Shield
Ignition Mechanism (NG/LP)
Manual w/Adjustable Flame + shut off device
Electronic w/ Adjustable Flame + safety shut off device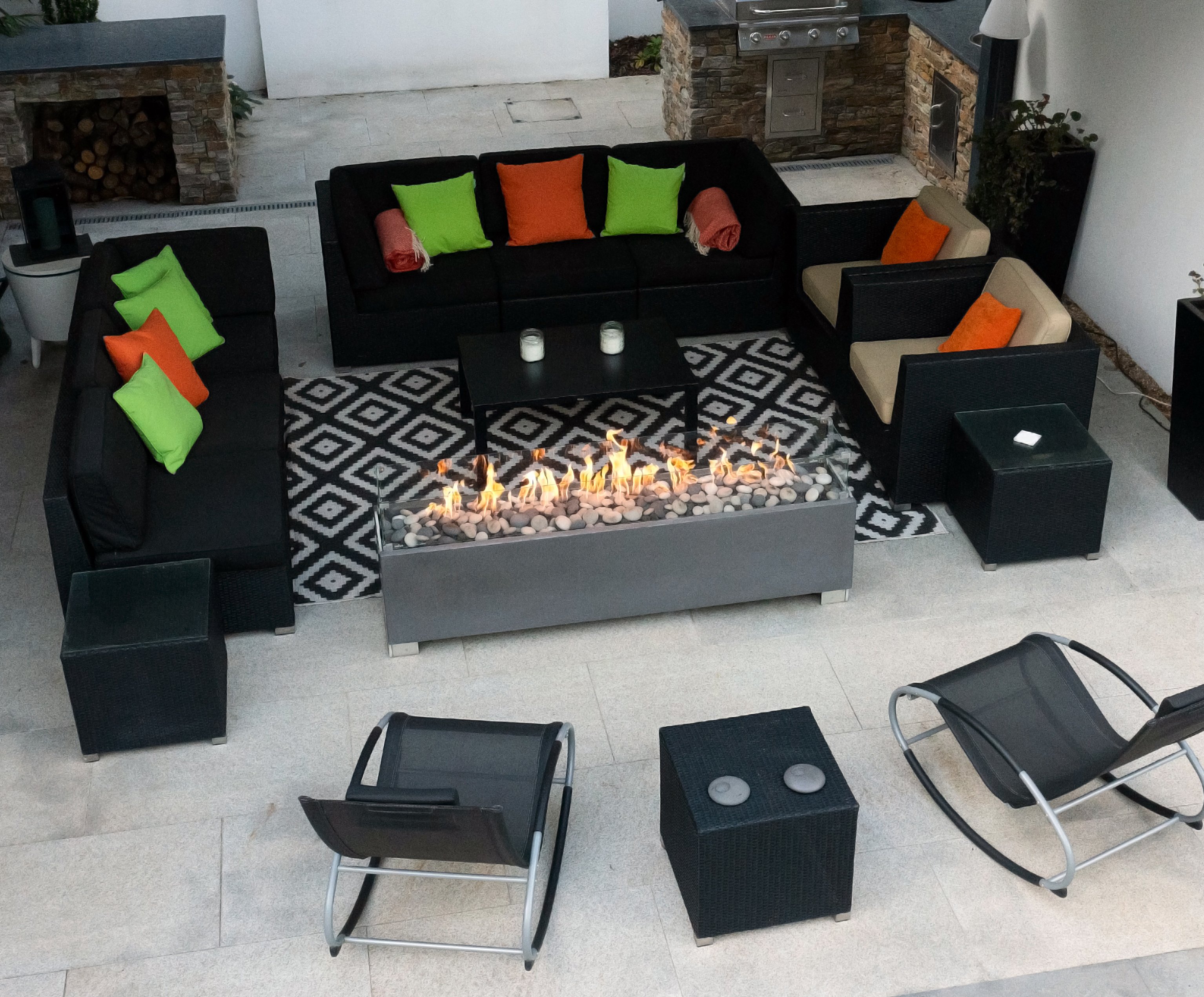 Linear
Dramatic Divider
This 72" wall of fire is designed for heat and visual impact. This Linear Fire Pit can hold its own as a focal point or draw you into a walkway or entrance.
These sizable linear units make them ideal for use in commercial settings as an elaborate partition to create separate zones within an outdoor terrace.
Size: 72" x 15" x 19"
Available in 10 different colors and provides up to 108,000 BTUs of heat.
Accessories:
Additional River Rock Firestones
Glass Wind Shield
Ignition Mechanism (NG/LP)
Manual w/Adjustable Flame + shut off device
Electronic w/ Adjustable Flame + safety shut off device
Water Dome
Reflective and Meditative
These water features are designed with a metal dome that appears to float inside the concrete vessel. Water flows up through the center of the dome and over the reflective surface of the hand-spun metal, and then trickles off the edges into the surrounding water creating a soothing sound.
26- 26" x 12" x 10"
36- 36" x 17" x 12"
48- 48" x 23" x 17"
Available in 12 different colors
Metal Dome Types:
Stainless Steel
Brass

Pump Systems:
Adjustable flow water pump
2-year manufacturer's warranty

Accessories:

All-Weather fabric cover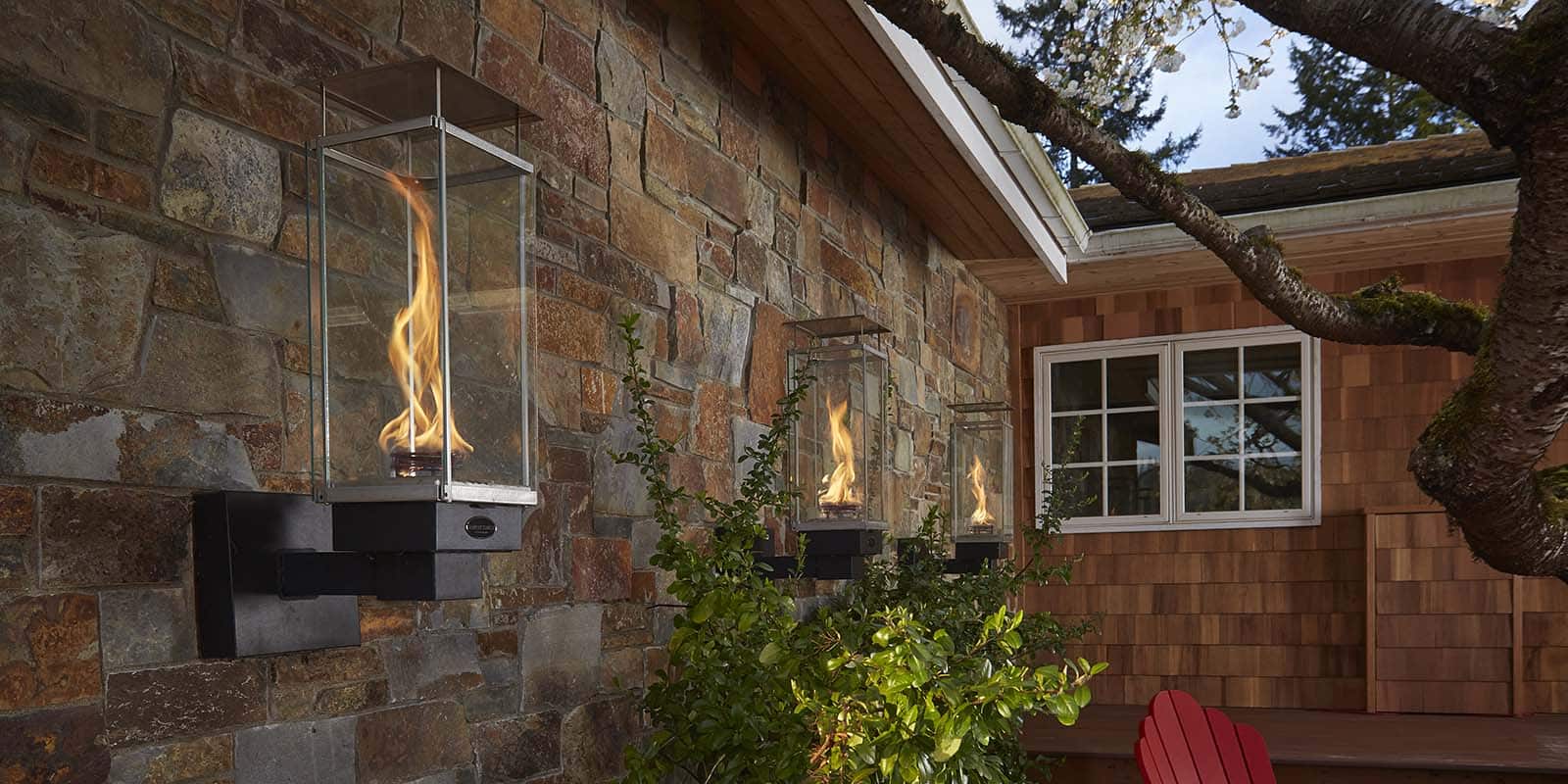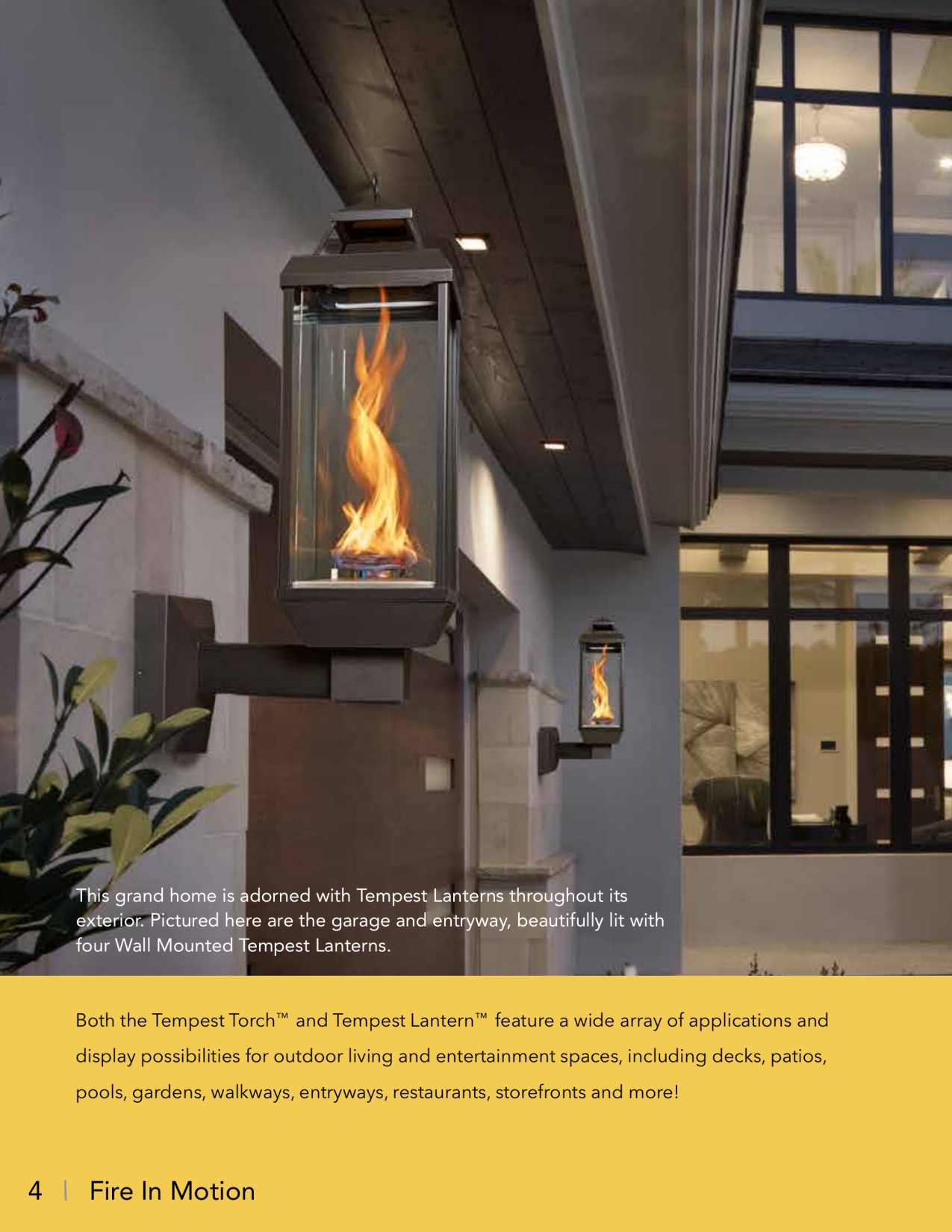 Landscape Lighting with the Tempest Torch
Captivating Spiraling Flame
Tempest Torch and Tempest Lantern are offered in four models of 16 gauge stainless steel and black powder coating that have been tested to withstand harsh weather conditions. They are available in manual or electronic ignition systems for natural gas or liquid propane fuel types. The Tempest Torch from Travis Industries has 15 years of real-world reliability. These lanterns are a beautiful way to light doorways, driveways, patios, and pool areas.
Wall Mounting, Deck Mounting, Pillar Mounting, or Ground Mounting
Automatic Gas Safety Shut Off Feature
Electronic Ignition or Manual Ignition
14,000-20,000 BTUs
Torch or Lantern Design Styles
17" Flame Within a Tempered Glass Housing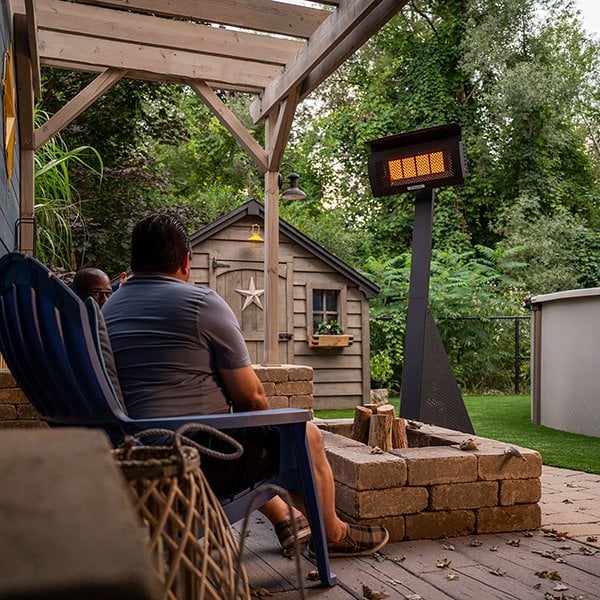 Infrared Portable Heater
Heat on Demand Where and When You Need It
Extend the use of your outdoor spaces with this portable infrared heater. Built with durable stainless steel construction with advanced safety features including a tip-over switch.
26 3/4" x 87 1/2" x 27"
31,500 BTUs
Liquid Propane or Natural Gas (wall mounted option)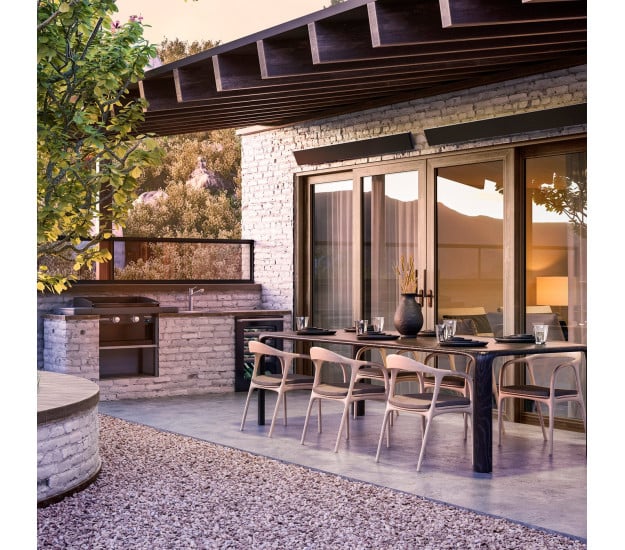 Radiant Indoor/Outdoor Heater
Enjoy Warmth as the Sun Delivers It.
The radiant heater warms like the sun, heating people and objects with zero glare.
Elegant Design
No Orange Glow Means you can Enjoy It in Low-Light Settings
Slim Profile is Perfect for Ceiling and Wall-Mount Applications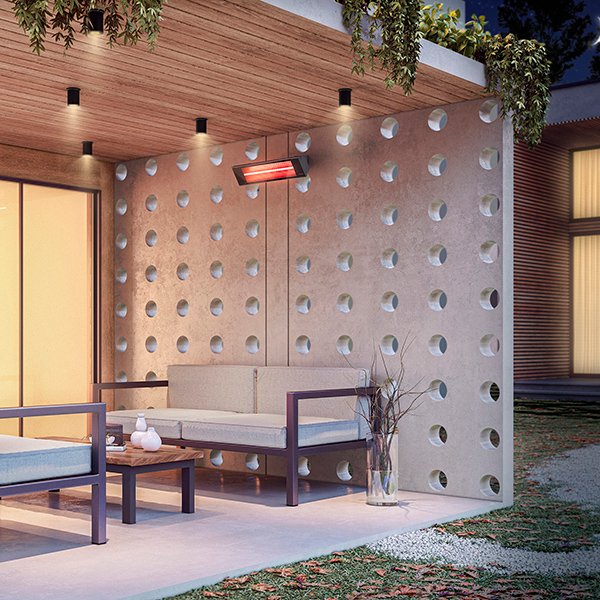 Mounted Indoor/Outdoor Infrared Heaters
Programmable timer with remote control features safety shutoff after 8 hours of continuous operation.
Schott Nextrema ceramic ensures even heat distribution and minimizes light emissions. Flexible installation on a floor stand or ceiling-mount bracket.
Provides premium comfort with maximum heat in less than 3 seconds.
For spelling out benefits and
Turning visitors into leads.
Copper Fire Bowls
Flaming Gorge is an elegant alternative to the modern fire pit.
Copper only improves with time and weather. This piece will serve your family for generations. In the Hamptons or at the Gallatin River Ranch- it is perfection.
Available in Smokeless Design
36" or 40"
Accessories Include a Spark Screen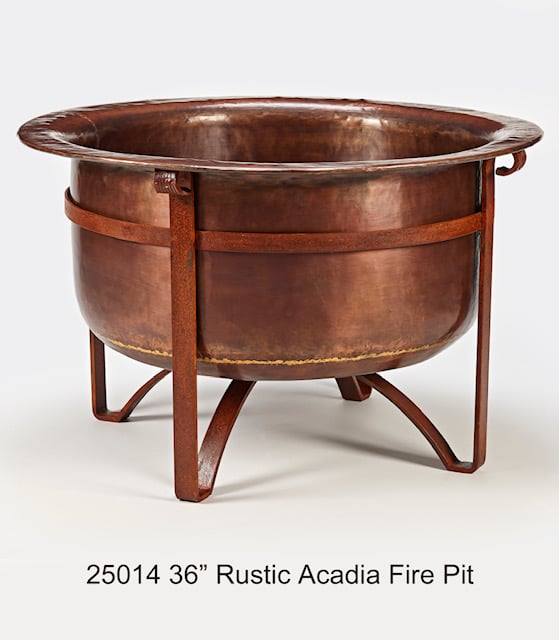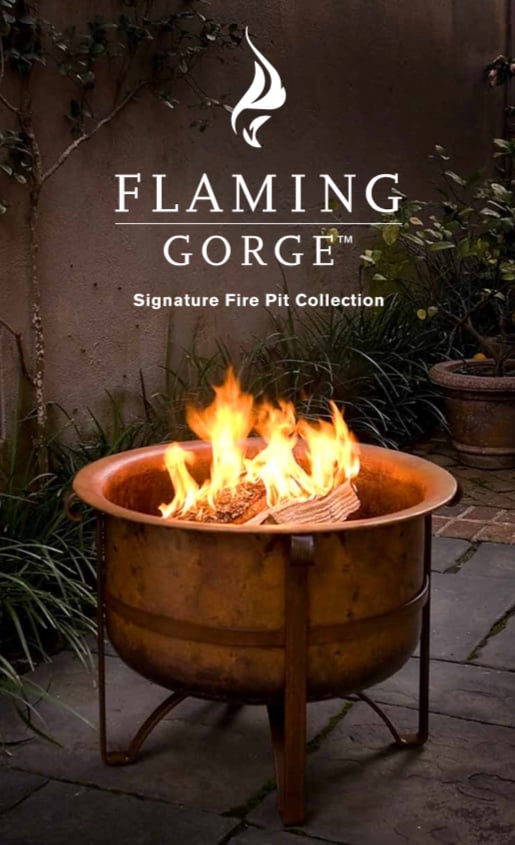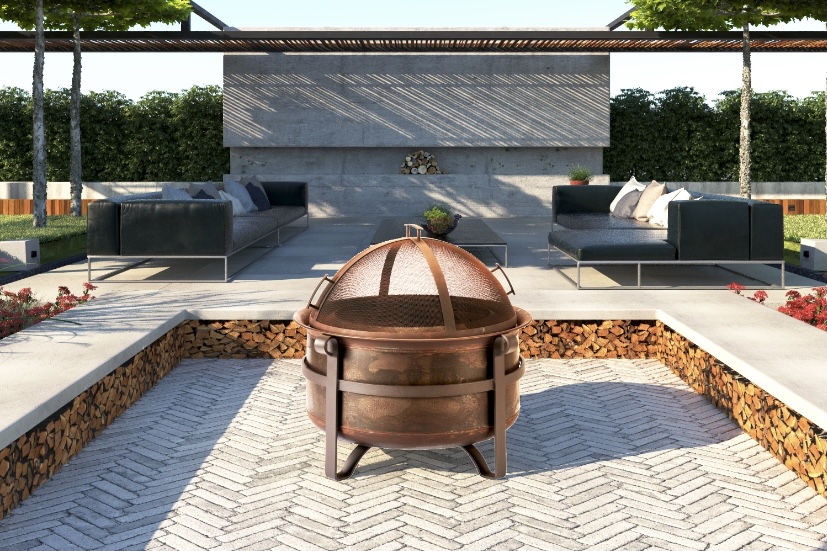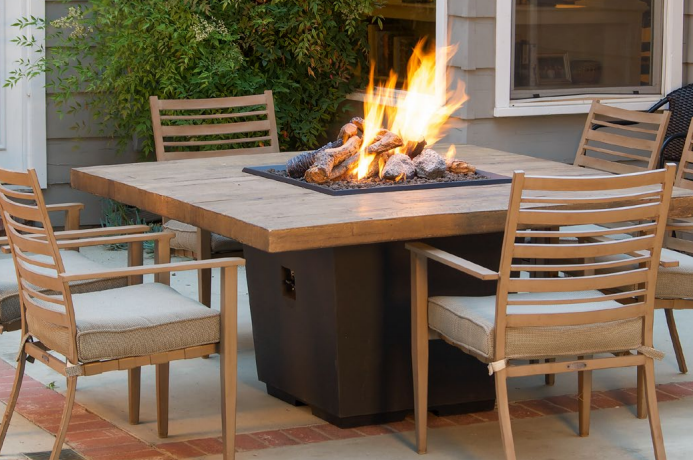 Outdoor Fire Table
Fire tables from American Fyre Designs installed by a local dealer and fueled by natural gas or propane are a popular way to expand your living space to the outdoors.
The fire pit has evolved into the more functional fire table where serving food or beverages just got a lot easier.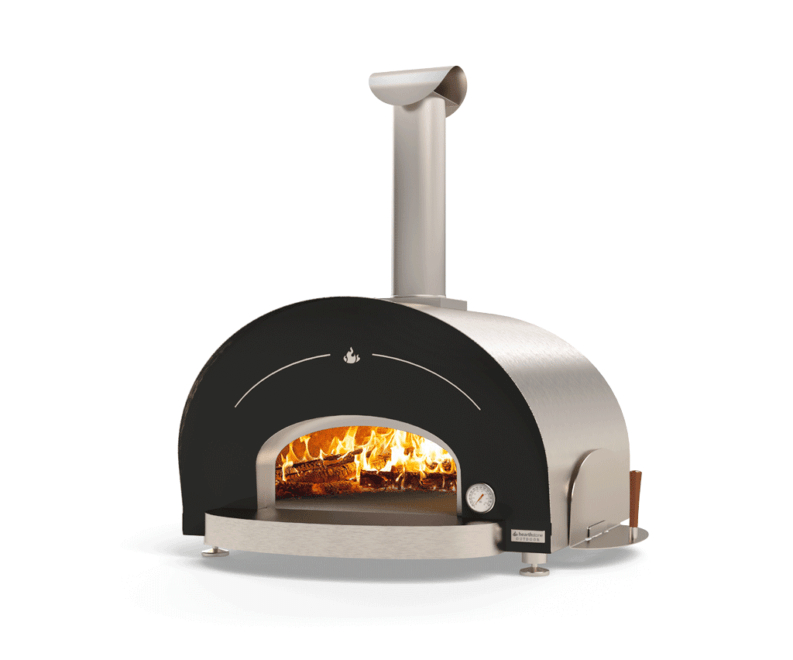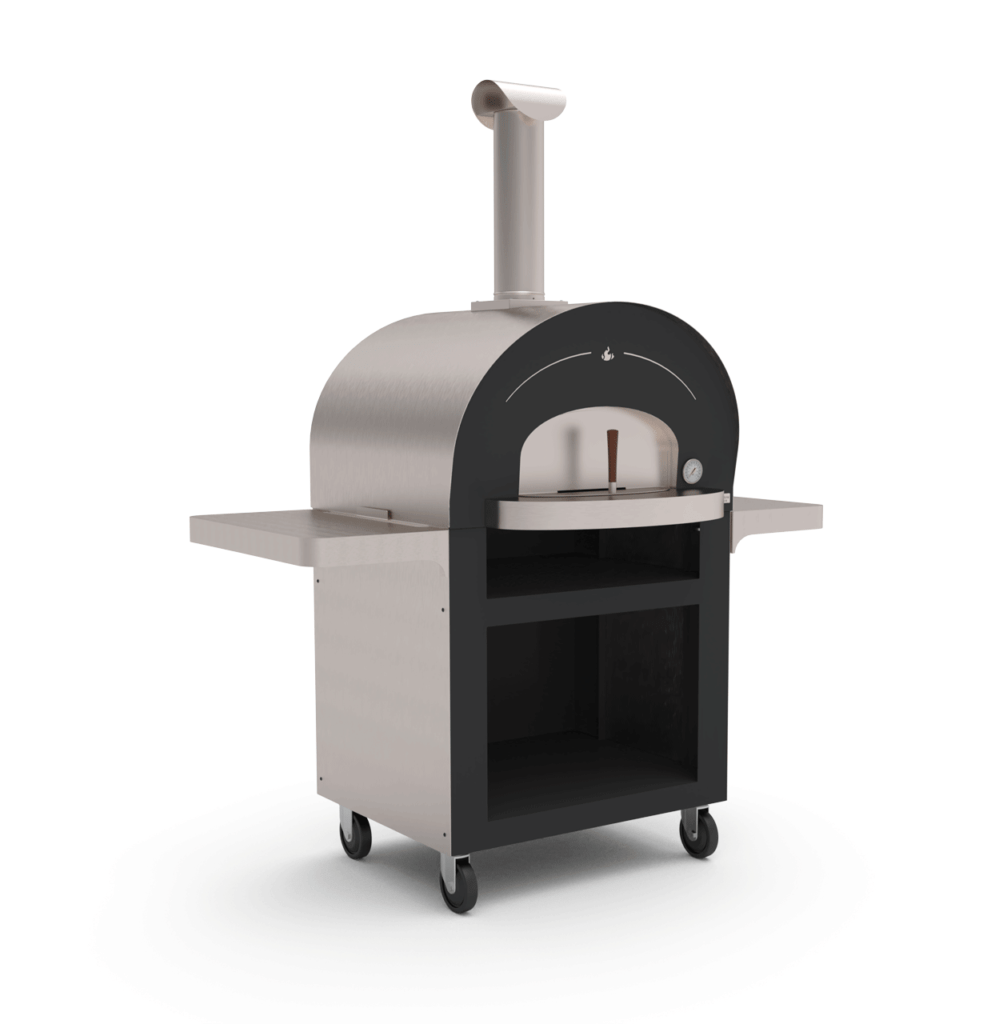 Genio Patio Oven from Hearthstone
Elegant Design Features
Front Prep Shelf
Surface Heat Thermometer

One Handed Front Door Handle
Soapstone Floor
Genio's thick soapstone floor gives a consistent even heat. Soapstone retains heat longer than regular fire brick, giving you longer cooking time with less wood fuel required.
Installation Notes
Install on any non-combustible surface or order the optional stainless steel rolling cart. The rolling cart comes with convenient caster wheels which allows you to move it around your patio and storage space for supplies, tools and wood. Click here to see the Hearthstone video.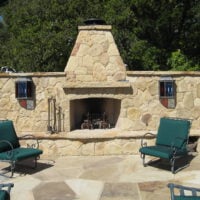 Mason-Lite Modular
Wood-Burning outdoor fireplaces can be custom designed with the Mason-Lite modular precast fireplace system. This product is 26% lighter and faster to install than traditional masonry. Mason-Lite is available in both traditional and linear styles.
Complete your custom design with a gas log system or use wood.

https://www.mason-lite.com/
Lightweight
Faster and easier to install
Traditional and Linear Designs