Outdoor living fireplace products help create new living environments.
Extend your time in nature from early spring to late fall and sometimes, if you are a true Northerner, all the way through winter.
We can take some lessons from our European friends who developed this fun and functional way of entertaining outdoors. Constructed of Corten Steel, these products just improve over time and withstand any weather conditions. Take a look at this page for a complete description of the OFYR.
Click on the image below to watch a video of the OFYR outdoor fire pit.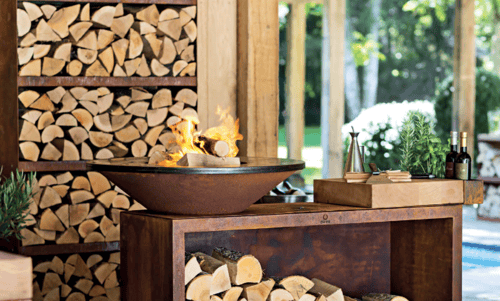 Suspended Outdoor Fireplaces
Our Focus fireplace is another unique product exclusive to the Twin Cities through All Seasons Fireplace. The Focus can be used outdoors in certain conditions. Follow this link for more information on the Focus.
The photo below is an example of how you might include a covered patio space into your pool design. Imagine warming up after a morning swim in front of this beautiful fireplace.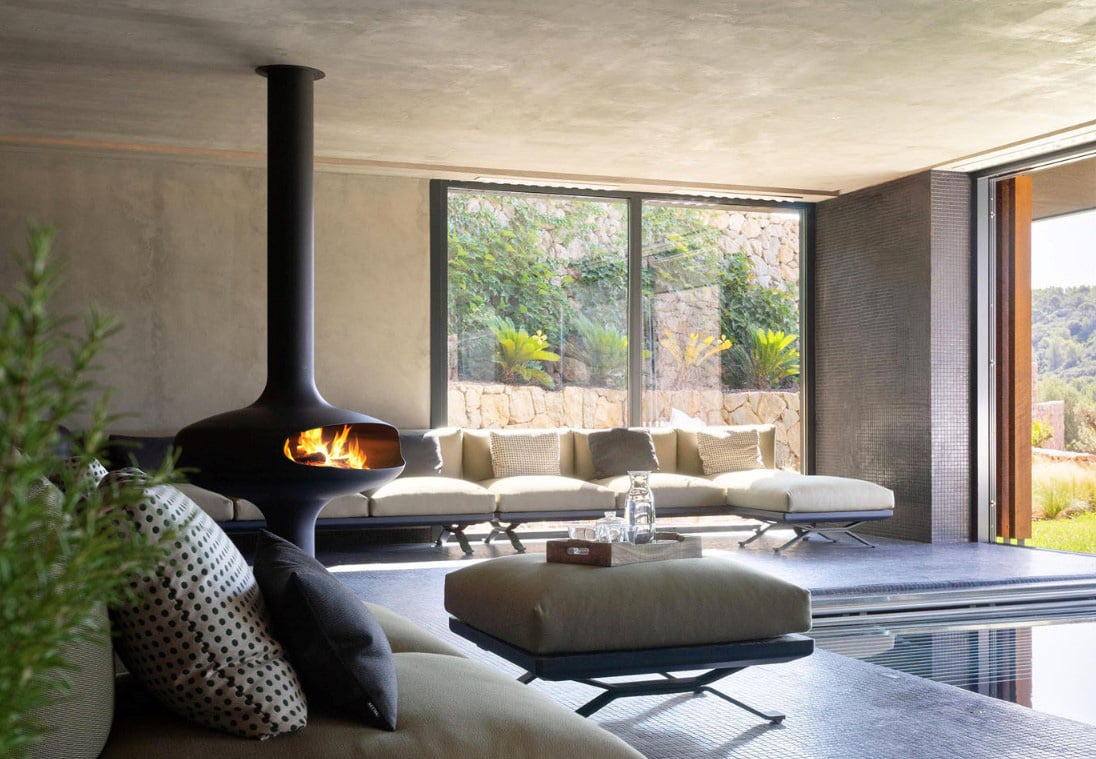 Wood Burning Free Standing Stoves
If you are looking for something for the cabin and if you enjoy the rich patina of Corten steel, may we suggest the Wittus, Phoenix pictured below.The open vertical cylindrical design of the Phoenix makes it the perfect urban fire pit because it can be enjoyed in tight spaces without smoking out your neighbors next door.
Use the Phoenix as a grill or fireplace and when not in use, enjoy it as a beautiful sculptural element in your garden.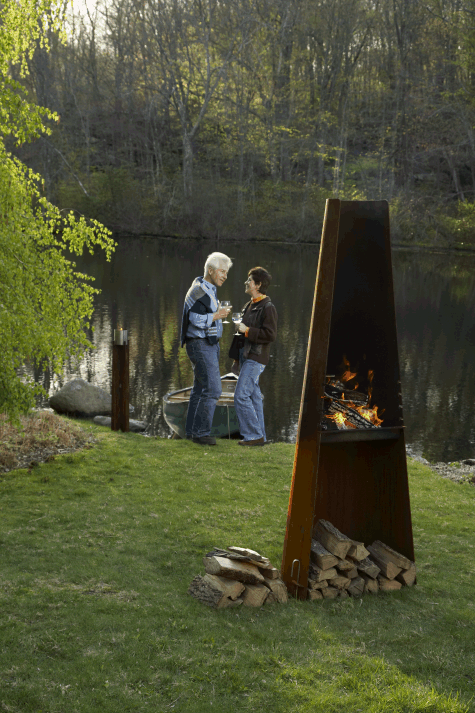 Outdoor Fire Pits
Who doesn't love time spent around the fire pit roasting s'mores and enjoying the company of family. Look to HPC to supply reliable fire pits and fire features fueled by gas. New smart phone technology makes using these products easier than ever.

Outdoor Fire Table
Fire tables from American Fyre Designs installed by a local dealer and fueled by natural gas or propane are a popular way to expand your living space to the outdoors.
The fire pit has evolved into the more functional fire table where serving food or beverages just got a lot easier.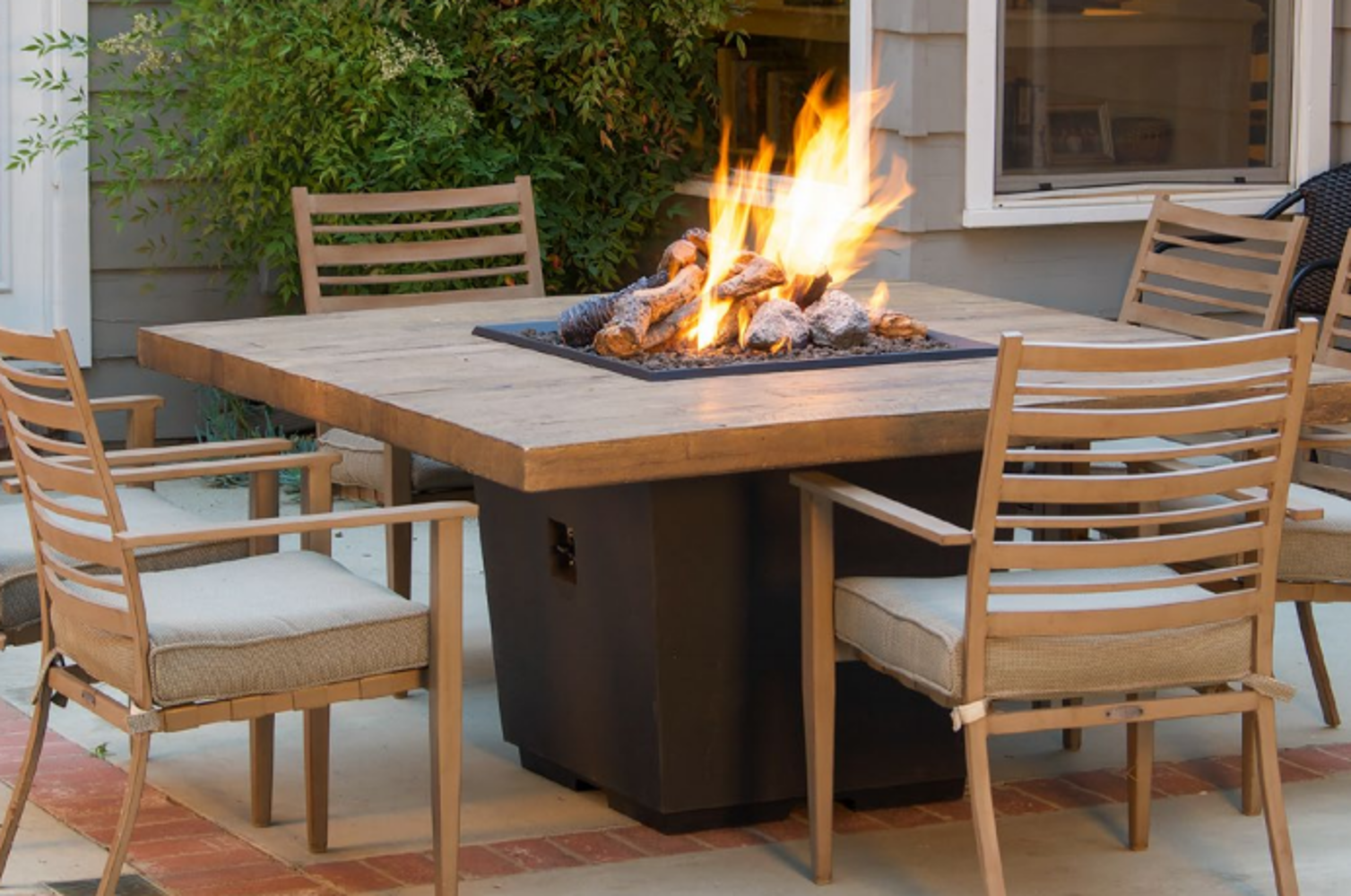 Consult Our List of Outdoor Living Product Brands Listed Below
Marquis Fireplaces (marquisfireplaces.net)
Majestic (majesticproducts.com)
Montigo (montigo.com)
American Fyre Designs (americanfyredesigns.com)
Wittus (wittus.com)
OFYR (OFYR usa)
European Home (European Home)
HPC(HPC)
Do you want to learn more about our dramatic outdoor lighting fire features?
Are you looking for the perfect ceramic grill for your outdoor living space?
Read about the Primo Grill Here
Call us at 952-546-6162 or Schedule a Consultation.