Gas Fireplace logs are a perfect solution for the homeowner who has a masonry fireplace and wants to maintain the look of an open hearth but wants to add the convenience of gas.
There are a few specifications of gas logs that you need to be aware of.
The flue needs to be permanently ajar in order to meet safety requirements, this can result in a slight draft. Some people install a custom door so that they can seal off the opening and eliminate the draft.

If you do add a door, you need to burn the fireplace with the doors open. The gas fireplace logs pull room air for combustion and if you do not operate the fireplace with the doors open, the product will not function properly.

You need to run a gas line to the fireplace and we can take care of that when we install your logs
Gas Logs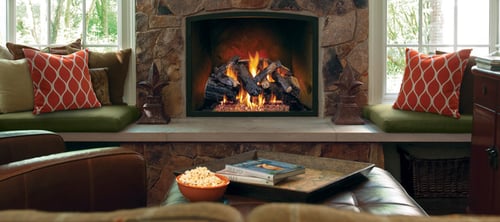 Not sure a gas fireplace log set is right for you? Check out this page to learn all about the many types of fireplaces we can provide.