Residential Fireplace Overview
Fireplaces: All Seasons Fireplace supplies fireplaces for new construction and remodeling projects. We select our brands based on the manufacturers' reputation for providing a reliable product and their proven service to their customers. Our products are backed by reputable companies who value you as an end-user and us as a dealer. Why does this matter? This means that we will be here and they will be here to keep your fireplace running smoothly for years to come.
Gas, Wood, or Electric
New fireplaces can be fueled by gas, wood, or electricity. All Seasons Fireplace installs new fireplaces to the manufacturers' specifications by licensed and insured installation specialists.
Design Consultation Services
Our design team can help you select the type and size of the fireplace based on your aesthetic desires and the functional requirements for your specific application.
Predictable Process
Our process results in a predictable outcome in these four stages:
Our process begins with a visit to the showroom where we can demonstrate the brands that we carry and show you all the possibilities. We will provide a preliminary estimate during the showroom visit.
The second stage of our process involves a visit to your home where we will create an installation plan.
Stage three is the installation of the fireplace. We will work with your contractor to schedule the installation of the gas line, if necessary, and fireplace placement in coordination with the construction crew on your project.
The final stage of the process is the start-up. We will demonstrate the operation of the fireplace, explain the burn-in process, and instruct you on routine maintenance and safety.
Fireplace Inserts: A Fireplace insert is used to convert a masonry fireplace to a gas-fueled or wood-fueled fireplace. It can be either a sealed combustion insert or a gas log. Our designers can help you understand the benefits of each type and guide you in the selection of the best insert for your application.
Fireplace Accessories: All Seasons Fireplace provides a wide selection of fireplace screens, grates, doors, mantels, tools, and parts that will keep your fireplace running smoothly for years.
Discover how All Seasons Fireplace exceeded the expectations of two of their delighted customers.
Brandon L., a Minnesota homeowner, was in search of functional and aesthetically pleasing gas fireplaces for his family's three-story brick house. After being referred to All Seasons Fireplace, Brandon was impressed with the extensive options presented to him by owner Joe Weyandt. With Joe's personal recommendations and guidance, Brandon was able to convert his three masonry fireplaces with two gas fireplace inserts and a custom door with a gas log that perfectly suited his family's needs. All Seasons Fireplace's timely and thorough customer service, both in-store and at Brandon's home, solidified their status as the go-to source for beautiful and functional home fireplaces. Read about his experience in is own words.
My wife and I live in a three-story brick house with our two children. We are the second owners after the family who built this house in 1994. Despite having lived here for over 5 years, it wasn't until after we had our first child that we started to truly settle in and try to make the house our "home."
Our house has several fireplaces in it, none of which we were happy with functionally or aesthetically. Some were gas but not enclosed properly, which posed a safety risk with little kids, as well as not looking finished or aesthetically pleasing. Then we also had two wood-burning fireplaces which again posed a safety risk and were not functional for our needs.
For all our fireplaces, we wanted to convert them to beautiful, functional gas fireplaces that we could utilize for both heating and to make our home look more complete and finished. As Minnesotans, we wanted to be able to enjoy our fireplaces through the long winters.
We found All Seasons Fireplace through referrals from other satisfied customers. The owner, Joe Weyandt, was responsive and showed us many beautiful options for each of our unique fireplaces. Joe Weyandt also personally looked at our fireplaces and made recommendations for custom glass enclosures to suit our aesthetic and functional needs.
All Seasons Fireplace exceeded our expectations with the number of options made available to us as well as their ability to meet our unique needs. They provided timely and thorough customer service to us both at our home and in their storefront, which allowed us to see many options firsthand prior to making our selections. Joe Weyandt and his team are extremely knowledgeable, friendly, and efficient. We will recommend All Seasons Fireplace to our friends and family who are interested in making their home fireplaces beautiful and functional. Brandon L.
John M. replaced his fireplace door with a solution from All Seasons Fireplace.
"We purchased a replacement glass door and screen with All Seasons. There are so many choices today in styles, colors, etc. They helped us sort through the options and choose exactly what we were looking for. The installer was personable and arrived on time. Installation was done beautifully and the workspace was spotless when he left. Got a follow-up call from Joe to make sure we were pleased with the outcome. Excellent product, installation, and overall customer experience." John M.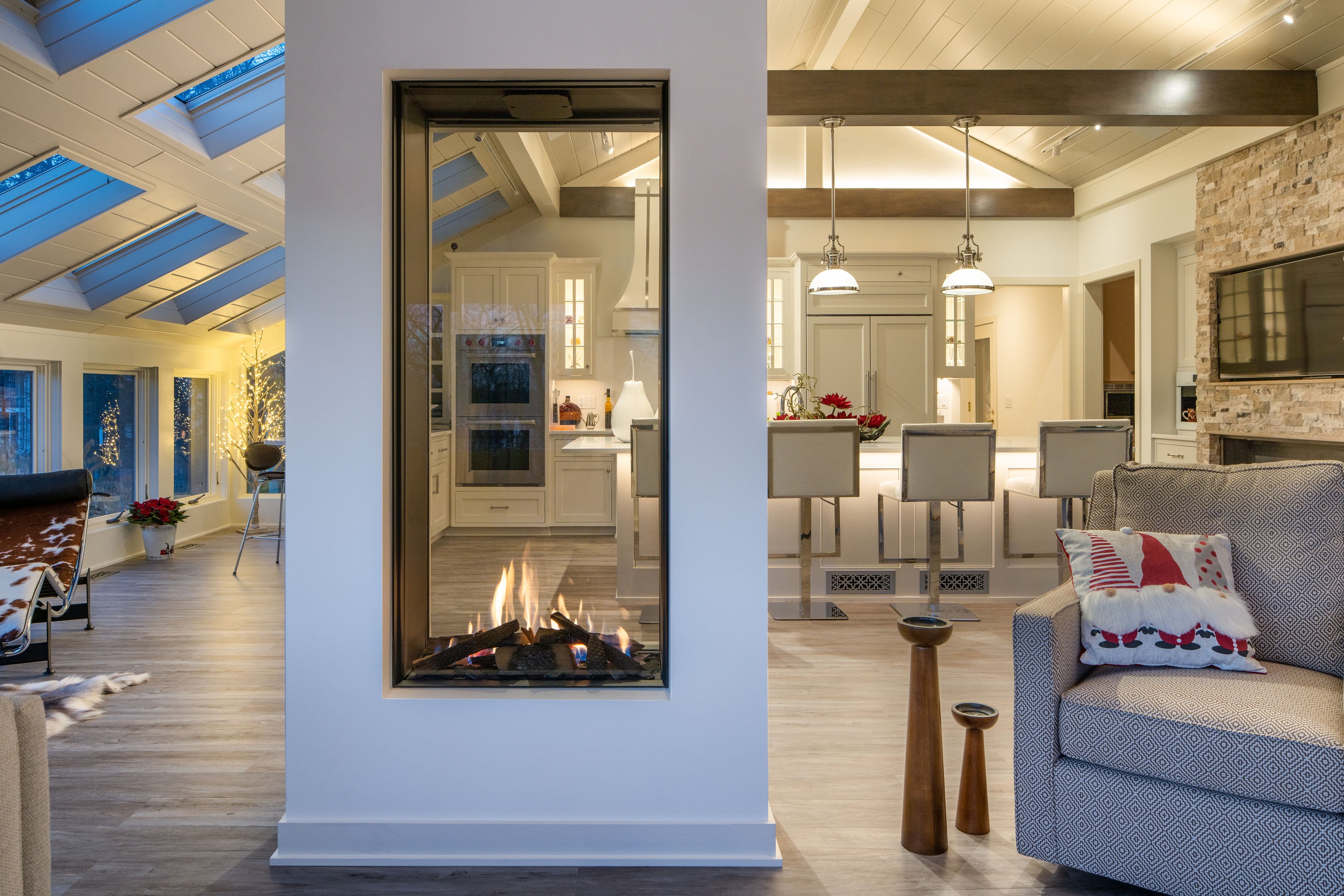 No video selected
Select a video type in the sidebar.