Mid Century Modern in Fireplace Design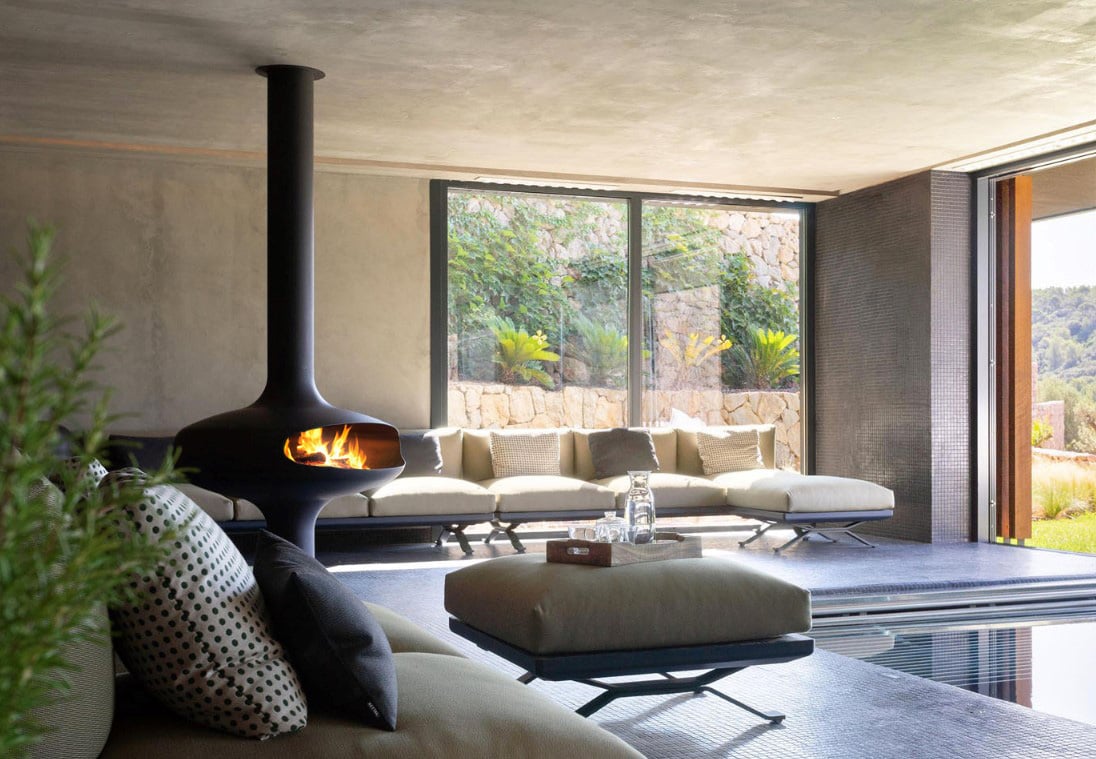 Iconic Mid Century Design that stands the test of time
The Focus Fireplace is available in both wood-burning and gas-burning products.
Like the Eames chair, good design inspires generations and the Focus Fireplace is such a design. This suspended wood-burning stove is a sculptural masterpiece first found on the scene in the Mid Century Modern design trend in the 1960s.
You might think of a James Bond hideout in the Italian Alps or a hip Tribeca loft when you see the Focus, but boring is a word that will not come to mind.
Each Focus Fireplace is Manufactured by Hand
This Focus is manufactured by hand in Viols-le-Fort in the south of France. The Focus wood-burning fireplace line is being imported to the United States by European Home. We have this fireplace on display in our showroom as the exclusive Midwest representative of the brand.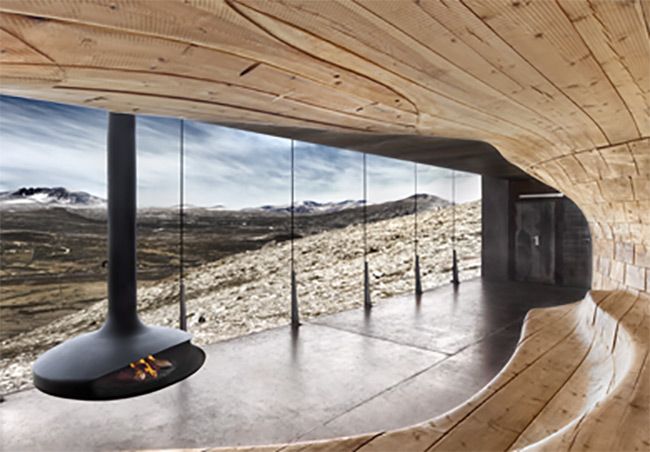 Form and Function
Who doesn't want the best of both worlds? We think the Focus is the perfect combination of form and function. Dominque Imbert explains his inspiration like this.
"For me, design is the expression of the tension between poetry and utility, between art and functionality, between emotion and rationality." - Dominque Imbert
The Focus Design Philosophy
International Design Conference, Kyiv, Ukraine, 2001. Talk by Dominique Imbert, representing French designers

Am I a designer? My philosophy and practice of design.
- I haven't been to design school.
- I haven't studied architecture.
- I've never taken a single drawing lesson in my life.
- I haven't studied painting, sculpture, fine arts or art history.
- I haven't done any of these things.

I did, however, learn to do the washing up with a Greek cook in an Indian restaurant in London for several long months. I also studied ethnology, and I spent some time in Alaska with the Inuits. I was awarded a Doctorate in Sociology from the Sorbonne in Paris (for 'The influence on human behavior of aesthetics in the workplace'), which then led to my becoming a history professor in a lycée in Paris.
So, when Focus is awarded the National Prize for Creation by a French trade minister (Paris 1995), or when I see our fireplaces exhibited in the Museum of Contemporary Art in Bordeaux, Grenoble, or Stockholm or at the Guggenheim in New York; when we win gold 'Trophées du Design' medals (Paris 1994, 1997, 2001) or are given the Innovation Prize at the Batimat trade show (November 1999), or when Lord Norman Foster asks me to design a fireplace for him, I wonder why.
I wonder what has happened – if perhaps when I was young, like Obelix, I fell into a magic 'design' potion. I seriously ask myself if in the end it might actually be better not to go to school and thus have to learn everything by discovering it for oneself.
One thing that I can say is that when I was a teenager, on holiday in the country, I spent most of my time making furniture out of iron at the village blacksmith's forge. I also made shapes out of steel that I didn't dare call sculptures. This virus suddenly took hold of me again at the age of 27. I subsequently left Paris and set up my own workshop in the south of France.

Today, even with nearly a hundred people working for Focus, and exports accounting for more than 50% of our production (including Western and Eastern Europe, Japan and the United States), we still try to avoid the dual pressures of fashion and market forces. I have the extraordinary luck of being able to continue to follow my intuition and to work for pleasure.

It is through creating that I begin to understand what I'm looking for. What interests me is that which moves me, and I am moved by discovering, hidden in the depths of certain shapes and angles, the inner life, the soul of a material. It is about revealing a dimension beyond the cold, calculating and conventional context of our surroundings.
I get immense pleasure in praising a meaning from shapes – a hidden meaning, a sense of poetry. Without poetry, we exist without living.
For me, design is the expression of the tension between poetry and utility, between art and functionality, between emotion and rationality.
So, am I a designer?
I can't answer that…
Gas GyroFocus Features
The Gyrofocus suspended fireplace is now available in a gas-burning model that has been designed and tested in the Focus factory. This iconic design is now available in a practical, safe, and clean-burning gas fireplace.
Instant Ignition
Remote Control System
Adjustable Flame and Heat Control
Battery Back-Up
Realistic Ceramic Logs
Natural Gas or Propane Fuel
Available in Black or White
The gas-burning Focus products are available in select models only. The base price starts at $28,875 and a site visit is required. Lead times range from 22-26 weeks. The Focus requires installation by a trained Focus partner.
Looking for more options? Click this link for more information