Dramatic Outdoor Lighting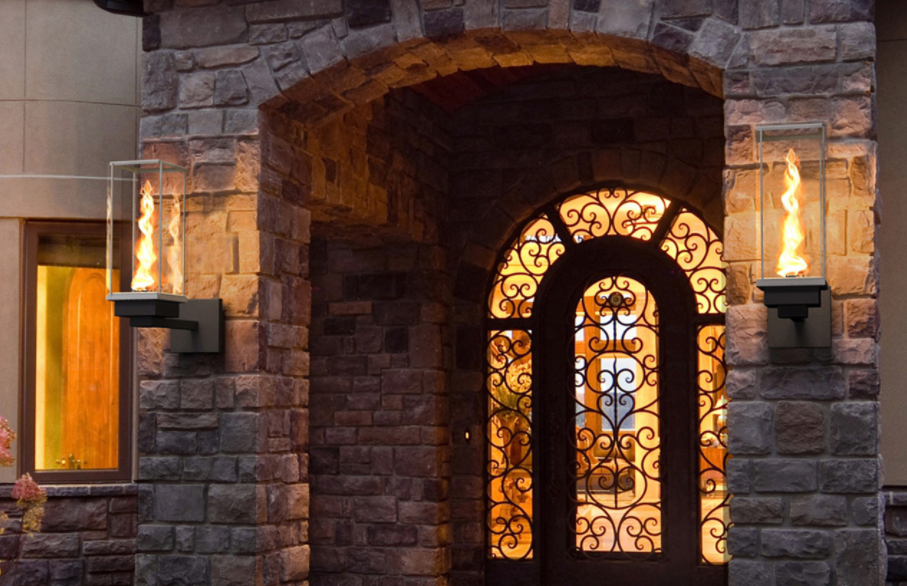 Dramatic outdoor lighting can change an ordinary landscape into a magical space. We have all experienced that feeling of awe when we step into a beautiful outdoor space.

Inspired outdoor spaces can lift us out of the ordinary and pull us into a new mood.

The element of fire in designs by Tempest Torch is all about welcoming and way finding. Much like tiki torches firmly planted in the sand might beckon you to an island oasis, this product's spiral-like presentation of fire gives off that same vibe. The torches are made of tempered glass and designed to direct the oxygen needed for combustion in a pattern that increases the flame velocity and lends a spiraling dramatic effect.
We frequently see these placed right next to the home and carried through outdoor spaces to
provide continuity. Options include short or tall post versions, wall mounted, or a base-free
for those wanting to construct something unique or utilize an existing feature.

We also feel good about safety in design as the 18" tall open-air tempered glass works to
prevent the flame from going out during high winds or rainfall and includes an automatic gas
safety shutoff valve. Note that the torches can run off attached gas lines or a five-gallon
propane tank. The variable flame reaches a height of 17", kicks out up to 20,000 BTUs and can
be manually ignited with the built-in piezo igniter. Practical and versatile, this type of inviting
feature lights the way for an alluring evening outdoor experience.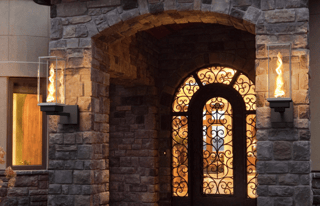 As if the conversation wasn't
heated
enough, place a firetable in your outdoor living space and
that's all your guests will be talking about.
We like the American Fyre firetables with natural gas or self-contained propane tank fuel options that are handcrafted from glass fiber reinforced concrete (GFRC). They're modularly constructed as easy-to-assemble components that fit easily into most backyards, making installation fast and simple.These tables, complete with glass wind guards, come with so many attractive media/accessory options to frame up the picture-perfect fire, we find it hard to choose! Select from glass in 16 different colors, designer pine cones, RiverRock or Creekstone, obelisk geo shapes or lava coals. Swap them out as you like.
American Fyre offers either a chat height or dining firetable to bring fire to your fingertips. Either way, you're no longer far from warmth because the firetable provides the heat with an instant ambiance.And if you're looking to squeak in a few more weeks of outdoor dining on either end of the season, this product can dramatically improve warmth over the evening chill. Here's to extending summer!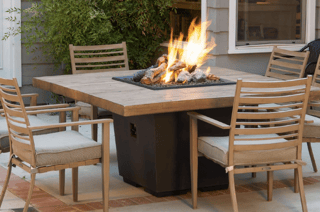 If you want to go beyond simply flowing water, illuminate it with HPC's Evolution 360 Fire and Water feature! Perfect for any residential or commercial setting, these innovative fire and water effects add the sound of soothing water and brilliant blue LED lights to the warmth and romance of fire.If you're wondering about where you'd find your water source, they've got you covered. You don't need a pond or pool to use the Evolution 360 as they arrive fully assembled with a self-contained filtrated water system. Controlling the three elements - fire, water, and lights – is done via wall switch. For easy install just level the basin and connect the water, electric and optional gas. Cover the structure with stone, veneer or stucco to suit your patio décor. This multi-purpose product, an industry winner of a Vesta Award for Best Outdoor Hearth
Product, brings a focal point to outdoor environments. Find your ideal hue of blue as you enjoy an experience that parallels the area's finest outdoor patios.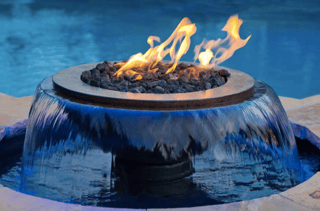 This hot new grill from Holland will help you bring beauty, warmth, food and friendship to your
outdoor space. The OFYR Grill is as much a barbeque grill as it is an art piece for your garden.
It will expand your definition of outdoor living. This wood-fueled grill features a wide, flat rim that doubles as a hot plate. The flat rim provides a smooth temperature gradient, which allows for a wider temperature range for precise cooking. Fry eggs, steam vegetables or sear a tender steak.

The OFYR outdoor cooking system includes a butcher block solid wood cutting board for food
preparation, a sturdy steel grate for cooking directly over the wood fire and cedar planks to
add a touch of smoke to the flavor of your food. Simply soak the cedar planks in water for an
hour before use and enjoy the complex smoky flavor this technique adds to your fish,
seafood or meat. Salmon is particularly good on a cedar plank!

The OFYR system also includes a Corten wood storage bench for stylish seating and doubles
as storage for your wood supply. This modular system may also include a steel storage unit to
transforms a stack of wood into an attractive wall. Now that's functional art!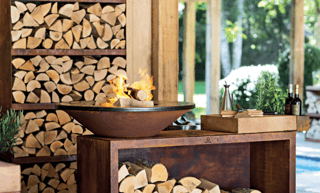 Change your environment and change your experience!