Gas Fireplaces or Wood Burning Fireplaces
Should you choose a gas or wood burning fireplace? Here are a few ways to compare the two types of fireplaces. If you are struggling to understand the differences between gas fueled fireplaces and wood fueled fireplaces we offer a way to compare the two in terms of energy efficiency, convenience, aesthetics and experience.
Efficiency: Gas fireplaces heat more efficiently than wood burning fireplaces because they use a closed combustion system where combustion air is drawn from outside of the house. This leaves all of the heated air in your house- in your house.
A wood burning fireplace uses indoor air to fuel the fire and pushes your heated air right out the chimney.
Gas fireplaces are also available with programmable apps that allow you to schedule the fireplace to heat just the spaces where you live only during the times that you use them. Simply program your fireplace to turn on 30 minutes before you wake up in the morning and your kitchen or sitting room will be warm when you sit down to drink your coffee before work. What a nice way to start your day!
This new technology is making zone heating easy and accessible to everyone. The Trisore 100H from Element 4 and European Home is pictured in the image below.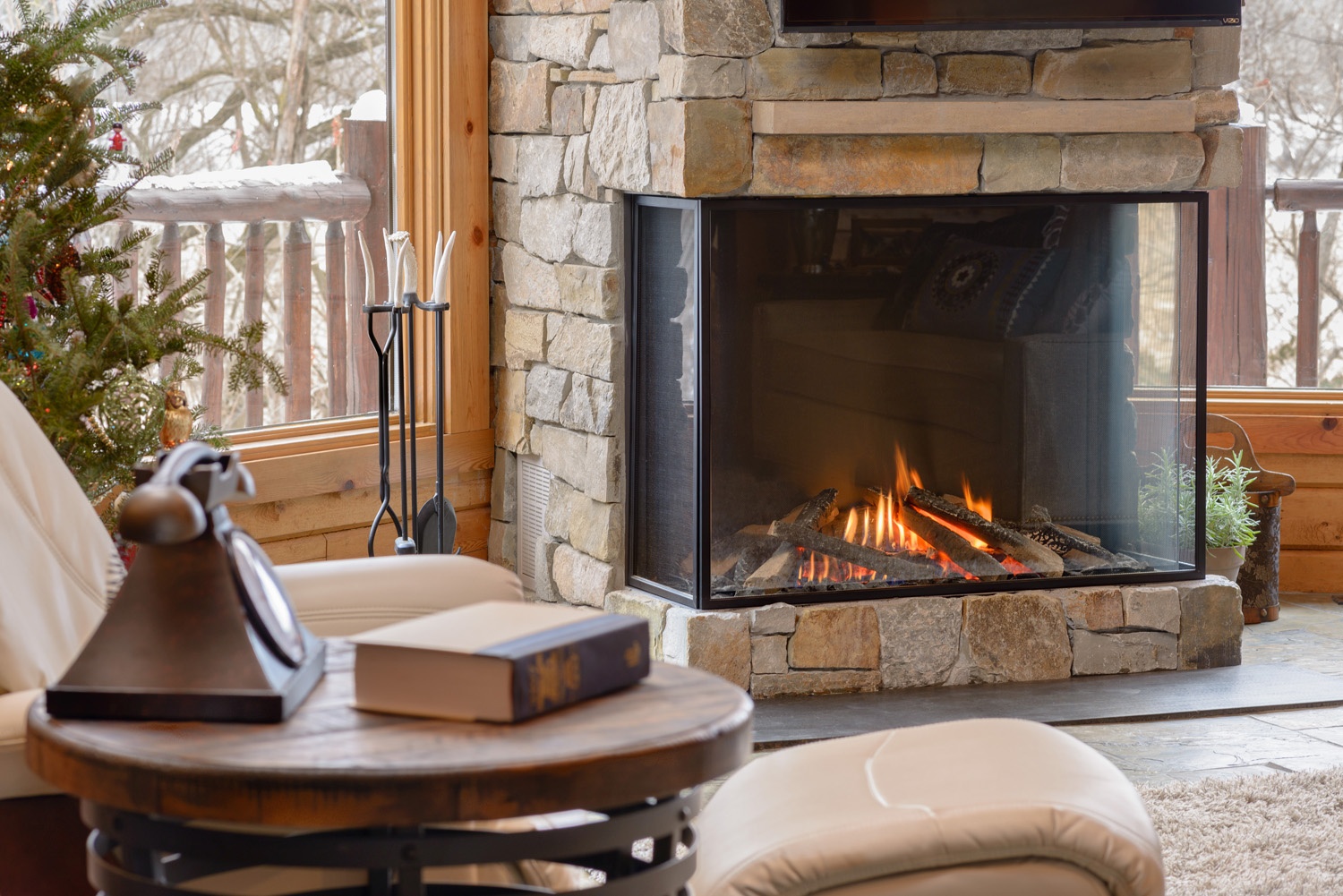 If you are serious about designing an energy efficient new home you should consider a whole house energy system approach.
An energy audit would be the place to start with an existing home. Your local utility should be able to tell you where you are using, losing and consuming a lot of energy with an audit of things like your insulation,windows and doors,lighting,appliances,water heating and space heating and cooling methods.
If you are building a new home and want to take energy conservation to the next level, you may consider building a Leed Certified home. A Leed Certification is the highest level of energy conservation in new home building. Incorporating safe building materials that use less energy and create a comfortable living environment requires the use of trained and certified architects and designers. Check out the requirements on this page.
Following in the tradition of the Leed certification came the Well Building Score.
The well building standard is changing the way people think about designing buildings.
Providing environments where people thrive rather than just survive is guiding the movement toward spaces that improve our quality of life.
The seven core standards of the Well Building seek to optimize design, operations and behaviors where we work, play and live.
The seven core standards are:
Air Quality

Water

Nourishment

Light

Fitness

Comfort

Mind
Heating methods fall under the comfort category and feature number 83 talks about radiant heat. Radiant heat, which is like the heat produced by the sun and is considered the most comfortable form of heat.
Radiant heat adds to your building wellness score. You may choose to consult this list when designing or remodeling your home. Why just survive when you can thrive?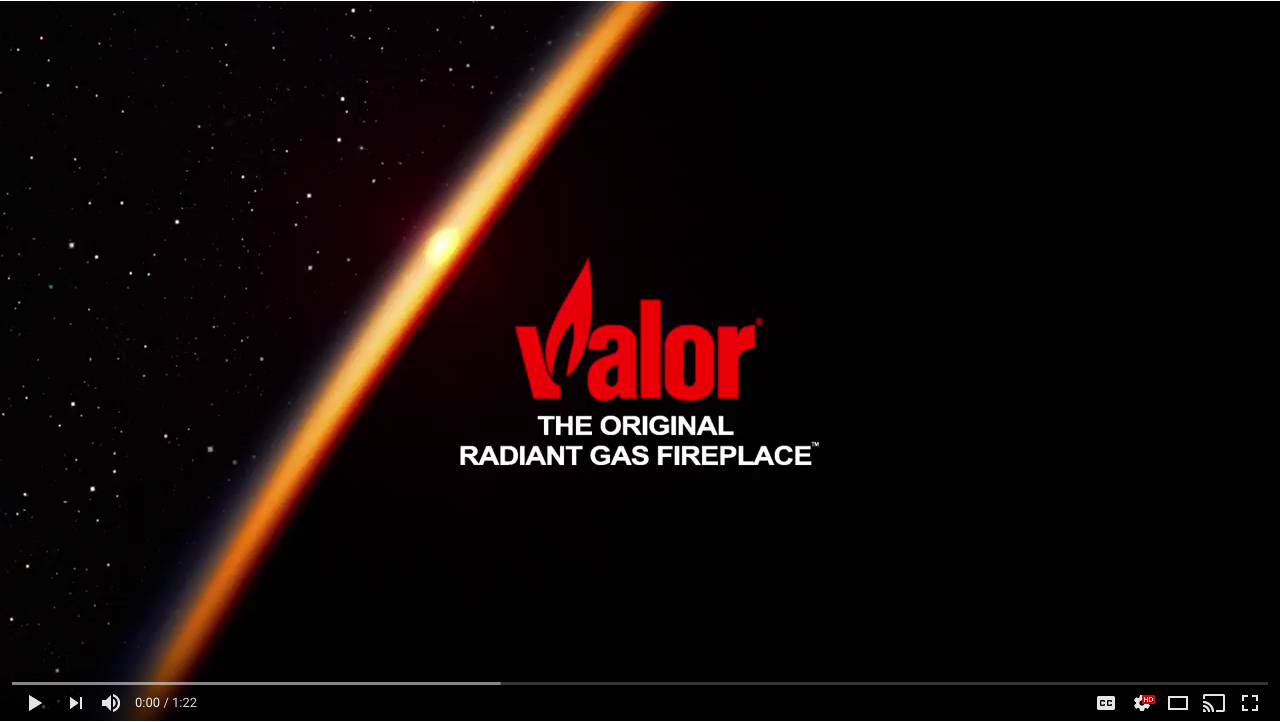 Convenience: Most people would vote gas fireplaces the winner in this category as well. Building and tending a fire is an event when you use wood. A wood burning fireplace requires that you to be attentive to the fire in order to keep your home and family safe.
If you have a gas fireplace, a fire can be experienced for as little or as much time as you like. Have a fire in the morning before work or just before bed, a gas fireplace gives you the freedom and flexibility to enjoy the fireplace more often.
And in terms of effort, a gas fireplace wins here as well, there is no need to buy, split and carry wood or worry about if you have dry enough wood. You'll never have to wonder about the creosote build up in your chimney or the particulate polluting the environment. Check out the facts about chimney fires here.
Aesthetics: Now this may be a debatable point for purists but we think that the artists who design gas fireplace media are hitting the mark. We're not locked into watching oak logs burn anymore. There is whole array of choices from traditional to contemporary media available. Take a look at the Long Beach driftwood media from Valor in this image.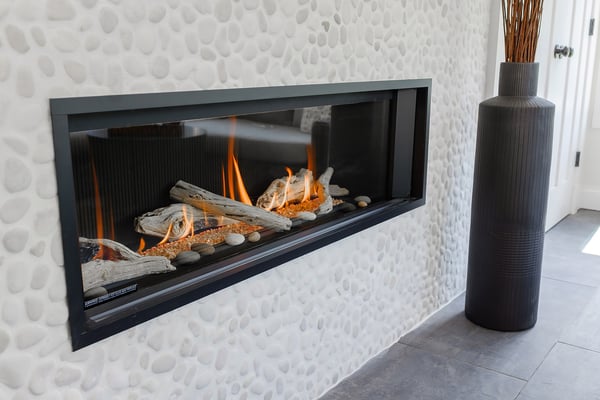 Experience: This may be the sticking point. Who can argue with the crackling sounds and earthy smells that accompany a wood burning fire.
All the memories of camping trips with family and s'mores enjoyed with friends come flooding back. This is why we cut, stack and dry wood, carefully place kindling and logs in just the right order and have the chimney cleaned and serviced.
For those people who enjoy a wood burning fireplace, all of the effort is worth it.
So, what do you think?
A gas fueled direct vent fireplace will provide clean burning radiant heat that will be convenient, efficient, safe and beautiful. A wood burning fireplace will offer a complete sensory experience where each fire will be a special event lasting for hours.
Whatever your decision, gas or wood, your lifestyle is sure to be enhanced. As a central gathering place for family and friends, the fireplace will continue to be the heart of the home.
Leave us your comments about the type of fireplace you like best!