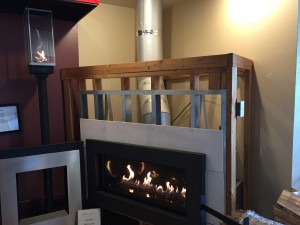 When we think about fireplaces we often think of warm and comfy moments where family and friends gather for special occasions. But there is a destructive element to fire that we at All Seasons Fireplace take very seriously. Last week, AIA Minnesota invited the fire marshal to update members and guests about the new fire code in Minnesota which goes into effect on May 2. There was good news and bad news.
The bad news was that residential fires make up the greatest percentage of fires reported in Minnesota each year. The good news is that gas fireplaces are making residential buildings safer. Because the fuel source can be extinguished in a gas fireplace, they are much safer than a wood burning fireplace and are rarely the cause of residential fires. Single and double family dwellings make up 48% of fires by occupancy. Minnesota reports the fewest deaths by fire per million of population in the North Central Region at just 6.2.
However, the fire service has concerns that fire deaths have plateaued and fires are developing faster, from 17 minutes to just 3 minutes. Light weight construction is causing premature structural collapse. (I was feeling good about my 80 year old home at this point.) The fire code has changed to require sprinklers in certain types of occupancies because of these new lightweight materials.
Things you need to know about safely installing a gas fireplace are:
1) Zero clearance fireplaces are designed for applications in new construction and when renovating new spaces where a masonry fireplace is not present. Each manufacturer specifies a depth of space that needs to be maintained between the fireplace box and the wall and finishing materials. Contractors need to consult the manuals for these specifications. Some new designs require a heat register to allow the heat to escape from this space around the firebox.
2) Fireplace inserts are installed within a masonry chimney and firebox. Each manufacturer provides minimum clearance measurements to combustibles. Homeowners should be diligent about knowing that their contractors are following the instructions provided by the manufacturers.
We at All Seasons Fireplace are happy to stay current in the state of fire safety regulations. We are thankful for inspectors who keep our family and community safe.
For more information on fire safety regarding fireplace installation, please call us at 952-546-6162 or you can Contact Us.