Electric Fireplace Adds Ambiance to Massage Studio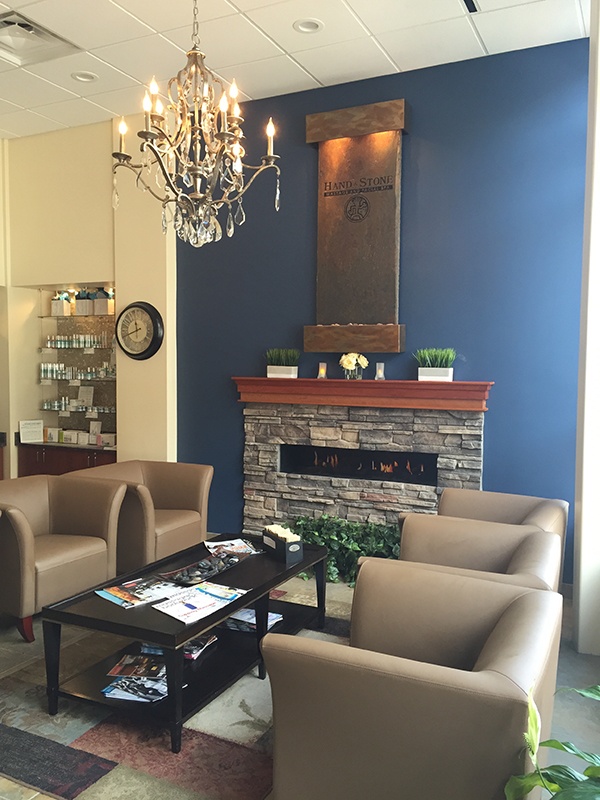 All Seasons Fireplace was chosen to partner in the design of a commercial space in St Louis Park. An electric fireplace was incorporated into the design of a new massage studio in the bustling new shopping area called "West End" in St. Louis Park.
This Electric Fireplace in the Hand & Stone Massage and Facial Spa is the perfect commercial design solution for three reasons:
1) The business needs dictated that customers be welcomed by a comfortable space where aesthetics was the primary need and heat was not necessary.
2) The build out requirement demanded a simple installation that the electric fireplace could offer.
3) The electric fireplace was chosen because it provided year-round enjoyment.
Hand & Stone Massage and Facial Spa selected an exciting new fireplace from Dimplex called the Opti-V Duet fireplace. This electric fireplace features technology that creates a three-dimensional fire that results in the most realistic fire in the industry. In addition, the fireplace creates visual sparks and crackling sounds – effects that you cannot even get from a gas fireplace!
No harmful particles or emissions are released from the flames. With no flame heat or emissions and a glass front that remains cool to the touch, Dimplex fireplaces are the safe choice for any home or business.
Electric fireplaces offer the look of a real fire without the heat. Many do offer a supplemental heating option as well for the best of both worlds. Either way, electric fireplaces provide a simple and safe option to enjoy a fire in your home or workplace. Continue to this page to see our newest electric fireplace line from British Fires.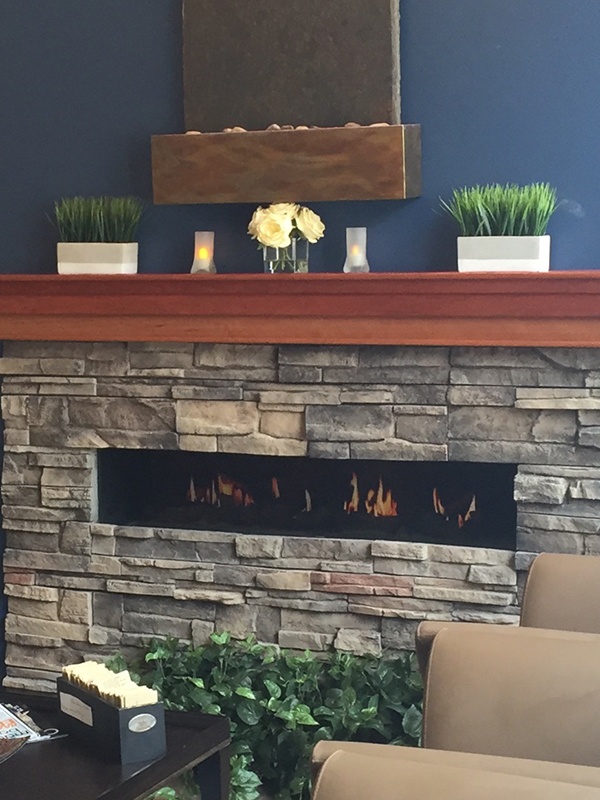 Another draw for a fireplace of this type for the massage studio was the ease of installation. Electric fireplaces do not require venting. They can simply be mounted in a wall, plugged in and enjoyed. A remote control provides the convenience of turning the fireplace on and off.
The staff from Hand & Stone Massage and Facial Spa said their customers love the fireplace. They are able to gaze at the flames and get in a relaxed mood before or after their massage or facial session. Many clients approach the fireplace, expecting to feel heat, but are surprised when there is none. All in all, Hand & Stone feels it's been a great addition to their office.
Electric fireplaces are an ideal alternative to gas or wood fireplaces. They provide the aesthetic of a fire without the hassle and mess of a wood-burning fireplace or the venting required for a gas fireplace. You can have the experience without needing a major remodel to allow for venting.
Hand & Stone Massage and Facial Spa creates an oasis for their clients to shed their stress at the door, step into a beautiful calming/healing environment and enjoy an exceptional massage or facial service. Their mission is to bring healing and wellness to the community by helping clients look and feel their best – affordably.
If you are ready to continue the process of selecting the best fireplace for your needs, follow this link to the shopping list.