5 Tips For Fireplace Design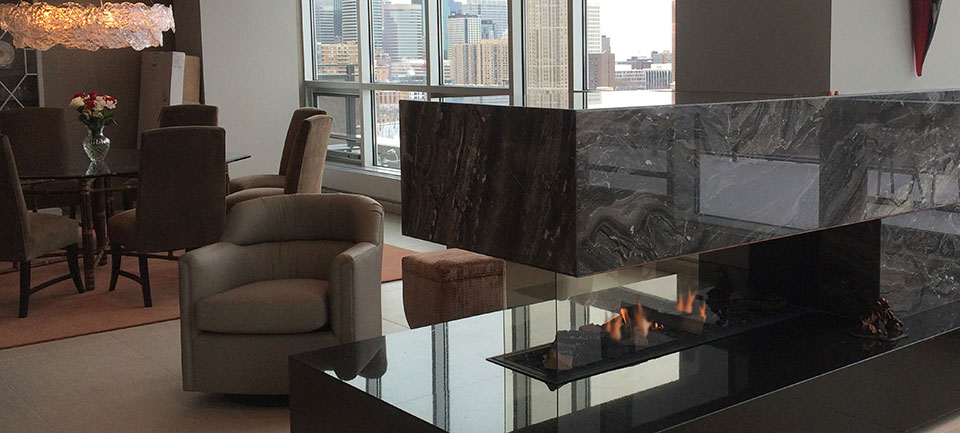 Your fireplace design begins with the technical details and ends with the aesthetic details. Be sure to address every aspect for a successful fireplace design project. In this post we discuss how to choose the fireplace you need based on heating requirements and design specifications.
1. What is the size of the area you want to heat?
All fireplaces are tested for what is termed "output" this refers to the BTUs of heat they generate. If you are heating a space with high ceilings and an open floor plan, you will want to consider a fireplace that generates more BTUs than a fireplace that would be found in a smaller room which is closed off from the rest of the house.

This is how you calculate the BTUs: BTUs= Area (length x width) x 20

Let's say your room is 10 x10 and you have a newer home built in the last 20 years, you would need 20,000 BTUs to heat the room in Boston in the winter time. If you live in a home built in 1919 with drafty windows and poor insulation you may need 25,000 BTUs to heat the same room in the same city.

Higher quality fireplaces offer control features like built in thermostats that allow you to control the output based on the temperature of the room. Some fireplaces also offer lighting features that light the interior of the fireplace when the flames are turned down so that the fireplace can be enjoyed when it is not producing heat.

Many people think that they need to have a fan to ensure that the heat will be spread throughout the room. A fan can help heat a room faster but not by spreading the heat around the room. A fan helps move the heated air out of the fireplace chamber faster. Sometimes this is advantageous when you are heating a basement or a very cold area and you want to enjoy the fireplace for a short period of time. Most often the fan is not necessary on a main floor because the space will heat up within minutes.

When you burn the fireplace you should turn down the thermostat of your furnace but keep the furnace fan running so the heat from the fireplace moves throughout the house.

Most well built gas fireplaces generate between 26,000 BTUs and 89,000 BTUs.
2. Do you prefer a wood-burning fireplace or a gas fireplace?
Both types of fireplaces offer their own benefits and you'll need to consider your lifestyle to determine which type will serve your family best. Modern gas fireplaces offer convenience and efficiency and can be just as breathtakingly beautiful as a traditional wood-burning fireplace.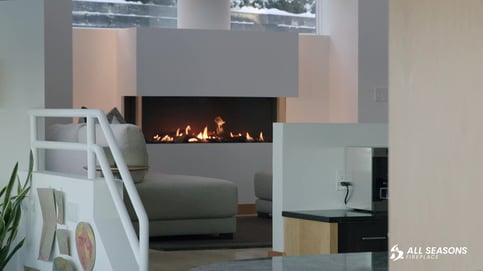 Take a look at this video of an All Seasons Fireplace gas fireplace installation in Lowry Hill in MInneapolis
As beautiful and convenient as a gas fireplace can be, some people prefer the experience of a wood-burning fireplace. A wood-burning fireplace can bring back memories of vacations and make an ordinary weekday evening a special occasion. As the family in the video below experiences several times a week with this suspended wood-burning fireplace.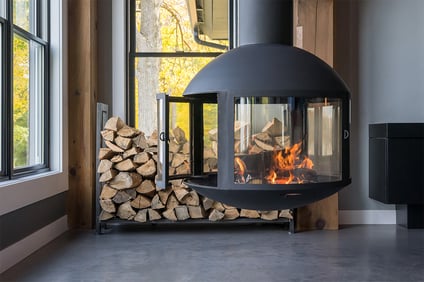 Suspended Focus Fireplace in Northern Minnesota
3. How will you finish around your fireplace?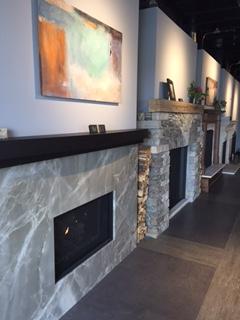 The typical traditional fireplace involves a mantel and hearth and more modern designs may not. When you visit the fireplace showroom you will learn about all the different ways you can design your fireplace.
Usually when you are add a fireplace to your room you will need to finish the wall around it. This can be a fun part of the design process. Be sure to allow at least 50% of your budget for the labor and materials involved in these details. Search images on the web and in magazines to find the styles that suit your home and your taste. The latest trends in fireplace design suggest clean and simple finishes. Be sure to stay away from manufactured stones that may not be able to withstand the heat from the fireplace.

In this example, the quartzite natural stone was sourced in Brazil from our partners at Amsum and Ash and fabricated to fit the opening of the fireplace and the contemporary walnut mantel was custom made by Daniel Carlson at Wayzata Mantels.
Stone and mantels can add $90-130 square foot of cost to your project. Professional fabrication involves state of the art equipment and a skilled crew.
If you are building your dream cottage on Cape Cod or Crane Lake you might want a more traditional look like the image below. Considering placing a T.V. on the same wall above your fireplace? Be sure to consult the installation manual for framing instructions. Non combustible wall boards and heat shift systems can make mounting a television above a fireplace a safe and predictable option.
Watch this video that describes how a heat shift system works to keep the heat moving out of the wall cavity.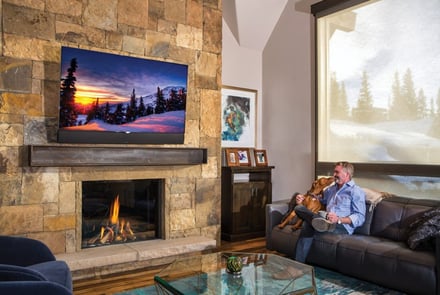 4. What functions do you want on your fireplace?
Some fireplace kits come complete and some can be modified with thermostatic controls, fans, internal lighting and smart phone features. See our shopping list for a complete list of questions you should consider.

5. What is the time frame you have to work with?
Skilled craftsmen are busy and you will need to be patient and start the process early. If you want the fireplace for Thanksgiving or Christmas, you should start the process in July or August to insure that all the elements are in place and you have plenty of time to prepare for your guests. Fireplaces are rarely stocked and require several weeks for delivery. Be sure to communicate your expectations and deadlines to your contractor and stay in contact throughout the process.

If you are ready to take the next step toward adding a fireplace.