Do you love a natural wood buring fireplace but you still want to save money and add efficiency?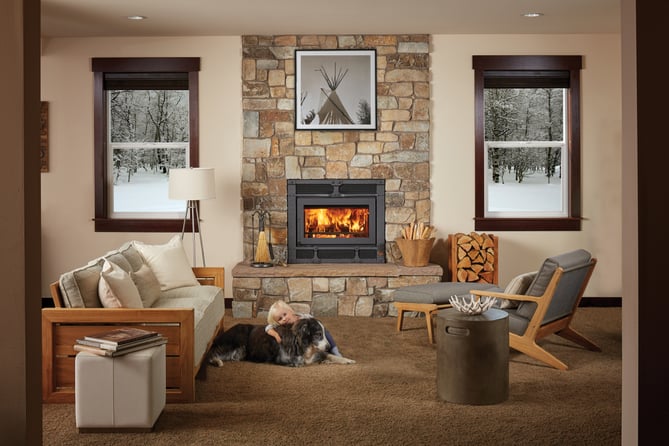 You may want to make your wood burning fireplace more energy efficient by adding a wood burning insert.
Wood burning inserts are a fast and easy fix for the heat sucking masonry fireplace. A chimney liner and custom trim can turn almost any wood burning fireplace into a heat producing machine.
Take a look at the brands that make this lifestyle hack so easy.
With a wood burning fireplace insert, you will enjoy a fireplace that will heat your home about three times longer than a traditional fireplace. A wood burning fireplace insert is airtight and sealed, which means the wood will burn slower and hotter. This can turn your fireplace into a much more affordable way to help heat your home. All Seasons Fireplace offers wood burning inserts that qualify for up $300.00 in federal tax credits.
If conservation is a consern for you, your carbon footprint will be smaller because your insert will produce fewer harmful gases than a traditional wood burning fireplace because it burns at a higher temperature.
Take a look at the latest report from the EPA on the subject of wood burning fireplace inserts.
A wood burning fireplace insert is an affordable option for those who want the warmth and comfort of a wood-burning fireplace but without the expense and hassle of having their chimneys repaired or relined. You can restore the integrity of your fireplace chimney without the cost and the disruption that can come with having your chimney rebuilt.
You could also see some savings on your home heating bills with a wood burning fireplace insert. You can heat all or part of your home with your fireplace, and those savings can add up in the long run.
The whole experience of building a fire and listening to the crackle of a burning fire can be enjoyed with a wood burning insert. A wood burning insert allows you to retain the beauty and ambiance of a natural fire while conserving energy and helping to save the planet.
Follow this link to learn more about all the different types of options?
Call All Seasons Fireplace at 952-546-6162 or contact us to