---
Step one:

Soak the cedar plank in water for 20 minutes. Season the Salmon
with lime juice and Gone Fishin seasoning. Step Two: Prepare the Salsa-

Mango (1) , Red onion (1/4c), Olive Oil (1/2 c), Lime Juice( I lime ), Cilantro (1/2c chopped), Golden Berries sliced in half (5-10).
Step Three: Open the top and bottom vents of the Primo grill
Step Four:
Insert the Primo natural lump charcoal in the bottom of the ceramic liner. Remove the one heat deflector.
Step Five: Ignite the charcoal with the Electric Fire Starter and wait until the coals are white hot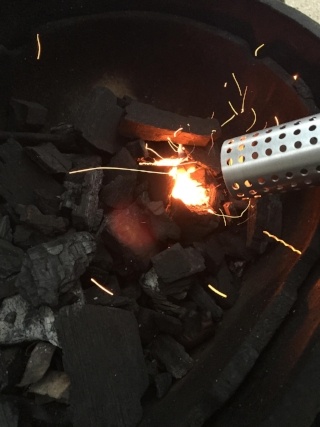 Step Five: Close the vents half way and place a heat deflector on one side of the grill.
Step Six: Place the salmon on the cedar plank and place it on the side of the grill that has the heat deflector, skin side down, and cook for about 5 to 6 minutes. The cooking time is dependent on the thickness and the fatty content of the Salmon. Leaner types of Salmon, like Sockeye Salmon, require less cooking time. You will have to keep a keen eye on on Sockeye to keep it from overcooking and drying out.
Farm raised Salmon is usually more fatty and can require more cooking time. We used a piece of farmed salmon from Whole Foods.You will want to see a slightly pink interior and be firm to the touch. The salmon should be opaque but moist.
Step Seven: Just before removing from the grill, place the salmon (skin side down) on the grate and over the direct heat of the grill for 30-60 seconds and flip and cook one minute on the flesh side.
Dress the Salmon with the mango salsa and enjoy with a Pinot Noir from Willamette Valley.