Product Spotlight: Broilmaster Grills and Accessories for 2015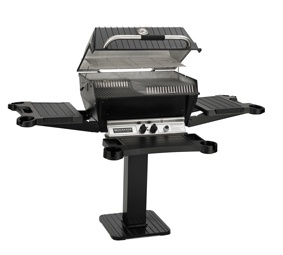 One of the most popular grills on the market today is Broilmaster.
Known as one of the most durable gas grills on the market, you'll have this grill for 20 to 30 years.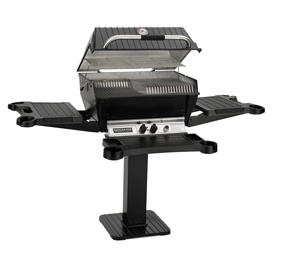 Broilmaster Grills are incredibly versatile. Depending on the model you get, you can enjoy several different ways of cooking and grilling. You can have a side burner added that will allow you to deep fry, simmer, sauté and boil. You can have a motorized rotisserie added to one of the models that will allow you to slow cook over low heat. These grills even allow you to adjust the cooking height, and they also allow you to control the heat and smoke levels.
But we think the best part about Broilmaster Grills is the fact that you can customize them to meet your own barbecuing and cooking wants and needs. All Broilmaster heads will fit into their posts, shelves and carts. So that means you can have a grill that is mounted in-ground or onto a patio post, or you can choose a cart that is either black or made out of stainless steel. You can also choose front and side shelves for your grill too.
There are so many configurations you can get that it would be hard to discuss every single one. But here are a few key features that you can choose from:
Stainless steel retractable racks: an added cooking level that you can remove when you need to make room for a larger food item, like a roast.
Heat indicator: a precise way to keep track of the cooking temperature.
Stainless steel side burner: whether you choose conventional or infrared, you can use this piece to sear steaks or chops.
Electric igniter: no matter what the weather is like outside, you can instantly light your grill with the click of a button. And it only takes one AA battery!
Dual controls: get full control over your cooking, grilling and roasting with separate controllers for the left and right sides of your grill.
Cast aluminum grill head: this will last a lifetime because it is so strong and sturdy, plus it helps heat your food more uniformly and transmits even more heat to your food.
Stainless steel lid stop: adjusts to different positions; lift it a little or a lot to control the amount of heat and smoke in your grill.
Are you interested in learning more about Broilmaster Grills and Accessories? Call All Seasons Fireplace at 952-546-6162 or contact us to Schedule A Consultation.