With the sun making a come back to our side of the world, we are ready to head outdoors to relax and entertain. We found this beautiful new grill from Holland to help you bring beauty, warmth, food and friendship to your outdoor space.
OFYR is our favorite new product for outdoor living.

The Ofyr grill is as much a barbeque grill as it is an art piece for your garden. It will expand your definition of outdoor living. This wood fueled grill features a wide, flat rim that doubles as a hot plate. The flat rim provides a smooth temperature gradient which allows for a wider termperature range for precise cooking. Fry eggs, steam vegetables or sear a tender steak.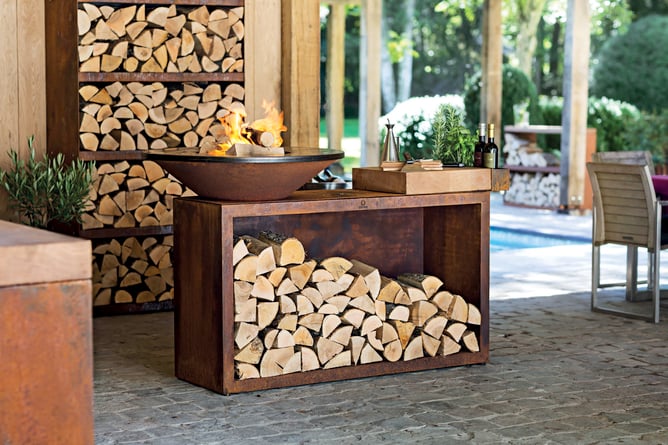 The Ofyr outdoor cooking system includes a butcher block solid wood cutting board for food preparation, a sturdy steel grate for cooking directly over the wood fire and cedar planks to add a touch of smoke to the flavor of your food. Simply soak the cedar planks in water for an hour before use and enjoy the complex smoky flavor this technique adds to your fish, seafood or meat. Salmon is particularly good on a cedar plank!
The Ofyr system also includes a Corten wood storage bench which creates a stylish seating area and doubles as storage for your wood supply. This modular system may also include a steel storage unit which transforms a stack of wood into an attractive wall. These storage walls include a hinged top shelf storage area.
Contact the store to hear about our demonstrations held on Saturdays during the summer months.We have a wide variety of grills to enhance your outdoor living this season. Let us help you get this party started!