Modern Gas Fireplace Technology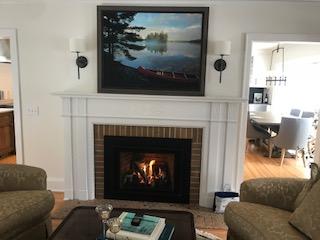 Modern gas fireplace technology and design keep evolving and improving. In this video from our archives, Joe talks about the split flow burner system developed by Travis Industries. This technology allows you to reduce the BTU output of your fireplace by as much as 80% which means you can use your fireplace more often and enjoy the aesthetics of the glowing embers and dancing flames of your fireplace when heat is not desired. Travis has recently updated this technology to include a new ember bed interior with halogen under lighting to mimic the glow of a natural ember bed. Watch the All Seasons Fireplace Video on Hometime
Why This Technology Matters

In this episode of Home Time from our archives, Nick demonstrates the installation stage called "setting the interior" of the fireplace and Joe discusses the benefits of the split flow burner technology developed by Travis Industries. Ceramic, hand painted logs, burning embers and split flow burner technology all result in one of the most realistic looking gas fireplaces available.


In the example below, the home owner added a fireplace Xtrordinair fireplace to his basement during an expansive whole house renovation. This fireplace provides the only heat to the whole lower level of this turn of the century house.. The homeowners are true stewards of the original design of the house and are thrilled with the traditional style of this fireplace.

Electronic Ignition, Standing Pilot and Thermostatic Control

With the electronic ignition and the standing pilot you will never have to light the pilot with a match again.The smart stat thermostatic control allows automatic adjustment of heat,flame levels and fan to provide a consistent room temperature. Simply set the desired room temperature and the fireplace will adjust itself up or down to meet that temperature.

Split Flow Burner System

The split flow burner system allows a heat output range of 31,000 BTU output all the way down to 6700 BTU output. This technology allows you to enjoy your fireplace on a chilly rainy spring day or on a -30 degree winter day. It also allows you to provide a cozy focal point of glowing embers and life like logs during family gatherings when heat may not be a priority.

Take a look at what this customer has to say about her Xtrordinair fireplace insert by clicking the video below.

LINEAR DESIGN STYLES

The Xrordinair brand offers their fireplaces in the popular linear shape as well. This four season porch has limited baseboard heat and windows all around but the fireplace keeps the room cozy and warm throughout the Minnesota winter and allows the homeowners the opportunity to enjoy the room and the view out to the expansive garden with views of the Mississippi river in the historic Merriam Park neighborhood.

All Seasons Fireplace has several of the Travis Industries fireplaces and inserts on display in the showroom. When you visit the showroom, ask to see the Travis Industries Xtrordinair display units.

We invite you to schedule a consultation to ensure our complete attention by clicking the button below.
To find out more about all of the fireplaces we offer visit this page on our website.
Read about the fireplaces we provide for commercial spaces here.
Visit our home page for directions to our showroom and hours of operation.