Corten Steel Wood-Fired Grill and Fire Pit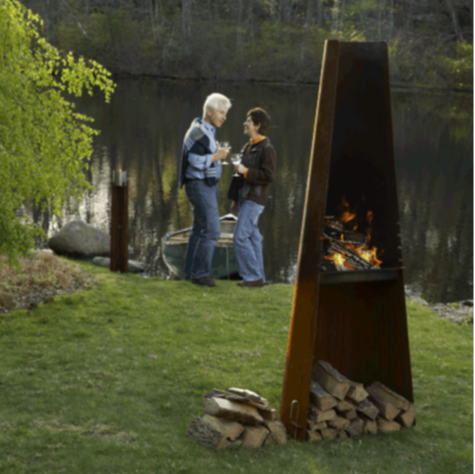 The Phoenix Grill
We learned a lot from a year like 2020. Home became a place for work and relaxation. We created new spaces to help separate times of work and play. Time in nature helped us to turn off the noise of work and settle into the calm of our surroundings. Danish designer Bent Falk designed this piece to be enjoyed as a fire pit, barbeque grill, or outdoor sculpture.
Cor-Ten Steel
Corten steel is known as weathering steel because the thin layer of rust that develops extends its life and makes it maintenance-free for decades. It arrives with a silver-gray finish but as it is exposed to the outdoor elements it takes on a beautiful bronze patina. Landscape architects are using this durable steel to create planters and accent pieces that complement natural elements of stone and grasses in the garden.
Conical Chimney Shape
The elegant conical chimney shape of the Phoenix grill stands 6' 3" high, 24" wide, and 20" deep. It weighs 220 pounds. The elegant chimney creates a draft that allows you to build faster fires and the smoke is funneled up and away from guests.
Wood-Fired Cooking
Everyday life and the fundamental act of cooking took on new meaning in 2020. Wood-fired cooking offered a new and exciting method for creating and enjoying a meal outdoors. Stoking a fire in a matter of minutes on the Phoenix with a mixture of seasoned wood and hard lump charcoal means a meal can be prepared in minutes. The Phoenix grill rack is made of heavy 5mm stainless steel rods and can be adjusted to 4 different heights. Cook directly over the fire on the rack or use a cast-iron skillet.
Video of cooking fish on a wood-fired Phoenix grill
Halibut Recipe
6 tablespoons extra virgin olive oil
1.5 pounds of halibut
Coarse sea salt and freshly ground pepper
1/2 cup finely chopped flat-leaf parsley

Grated zest and juice of 1 lemon


Heat the cast-iron skillet over white coals and brush the skillet and fish with olive oil. Season the fish with salt and pepper. Cook for 5 to 7 minutes. When it is ready it will release easily. Flip and cook until the fish is firm and opaque. Watch your fillet carefully because Halibut is a lean fish and can dry out if it is overcooked. Look for an internal temperature of 118 degrees.

Whisk together a mixture of 1/2 cup of olive oil, lemon zest, lemon juice, and flat-leaf parsley, and dress the fish before serving. Enjoy with Sauvignon Blanc or Rose of Pinot Noir.