7 Reasons Why the Primo Ceramic Charcoal Grills are Better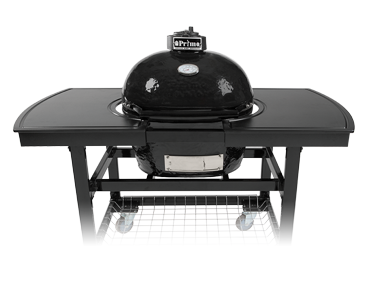 Ceramic Charcoal grills are all the rage these days and there is good reason for it. The construction of these new grills allows more cooking options and better results. Take a look at the unique qualities of the Primo ceramic grill.
1. The thick ceramic walls of the Primo grill retain heat better than a metal grill which means better moisture control during slow cooking and more efficient use of your charcoal.

2. The ceramic Primo grills offer a wider range of temperatures ; from 150 degrees to 850 degrees. This allows slow cooking for briskets and pulled pork and reverse searing for rib eyes.

3. The heat deflectors allow you to grill, bake, roast, smoke ,sear, braise, saute, barbecue, caramelize,flambe, boil, poach, scallop, simmer, stew, stir-fry, and more. Take a look at this cedar plank salmon recipe.

4. The ceramic shell of the Primo is coated with a lead free and scratch resistant glaze stands up to all kinds of weather and allows you to use the grill all year round. It is also offered in an oval shape which is better suited to roasting bigger cuts of meat.

5. Dual zones allow simultaneous direct and indirect cooking which means you can bake a chicken with indirect heat on one side while you roast veggies over direct heat at the same time.

6. The Primo is the only ceramic grill manufactured in the United States under strict quality control standards. Retail dealers will assemble your grill and the manufacturer will guarantee its function for the 20 years or longer that you will be using it.

7. The Primo is the only ceramic grill that comes with a 20 year guarantee and it is offered in gas if you'd rather not bother with charcoal.
Follow this link to see a video description of the Primo
For more inspiration for ways to enhance outdoor living, go to this resource on our website.